Almost 25 years after Tesco's launched its revolutionary Club Card, new report from Hawk Incentives reveals loyalty schemes are as popular as ever
Research reveals supermarkets still top of the shops with 8 out of 10 consumers subscribing to a grocery reward programme
Yet a fifth of +55s are concerned about inappropriate use of data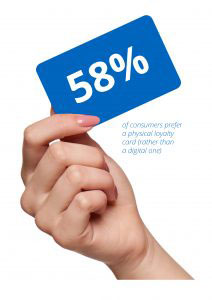 New research out today shows the public appetite for points and plastic is as popular as ever.  According to Hawk Incentives' The Loyalty Evolution Report – which surveyed 2,500 people across the UK – a massive 82 per cent (82%) of Brits currently subscribe to at least one loyalty programme.
Brand in hand: Over two thirds of people (64 per cent) are signed up to between one to five loyalty schemes, followed by six to ten (14 per cent), and eleven to twenty (2 per cent).
The founding grocery 'godfathers' of loyalty schemes still take the lion's share of the market, with eight out of ten (81 per cent) consumers admitting to subscribing to a supermarket loyalty card scheme.
The UK's burgeoning coffee shop culture is also driving consumer loyalty enjoying 42 per cent of the share of the market, with restaurants in third place with 33 per cent. Least popular currently are fuel schemes (with only 6 per cent of the population subscribing); technology schemes with (8 per cent); and sports retail loyalty and rewards schemes (19 per cent).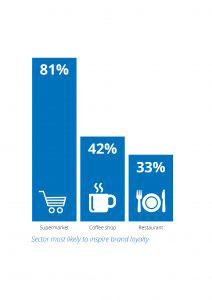 Loyalty stakes: The study also revealed that 62 per cent of people consider themselves to be brand loyal.  Contrary to previous studies which have painted younger shoppers as more fickle, the Hawk report reveals that Gen Z'ers, X'ennials and Millennials say they stay faithful to the brands they like or love. Indeed 77 per cent of 25-34 year olds claim to be brand loyal and 70 per cent of 18-24 year olds and 34-44 year olds.
Bargain hunters: Women are the savvier shoppers it seems, with 85 per cent of females signing up to more loyalty and reward schemes, compared to 76 per cent of men.
Not for me: Lack of interest was cited by a fifth (20 percent) of respondents as the main reason for not signing up. Seventeen per cent cited a perceived lack of value. This is also a greater reason for men (21 per cent versus 11 per cent for females), as well as the older age group (24 per cent).
The Devil's in the Data: Older consumers 55+ are failing to sign up over concerns about the use of their data.  Hawk Incentives' report finds that older respondents give stronger scores around statements relating to this, for example: "I am concerned about the use of my personal data (e.g. data breaches)" (20 percent); "I don't want to share my personal details with brands" (20 percent); and "I think it is just a reason for brands to capture my data" (20 percent).
Plastic fantastic: despite the rise of digital technologies, consumers would still prefer a physical loyalty card rather than a digital format. This is the case for both subscribers and non-subscribers.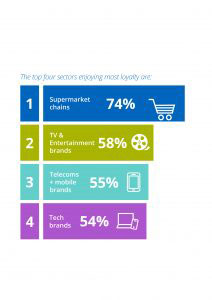 Over half (58 per cent) of subscribers and 30 per cent of non-subscribers said something in their purse or wallet was preferable to a smart phone app or another digital platform. Perhaps not surprisingly, non-subscribers don't really have a preference. But 46 per cent said they would still prefer a physical card if they could choose.
Chris Ford, Director, Field Sales , Hawk Incentives comments on the findings:
"The fact that only 15 per cent of consumers don't currently subscribe to rewards programmes shows loyalty schemes are still very much alive and kicking. However, it appears consumers' perception of them may have shifted as people become more concerned about data in the Facebook era."
Chris continued: "What we do know is that brands that offer loyalty schemes which are relevant, offer choice, and are easy to access, create the best opportunity to engage an already receptive audience of active customers. Mining your data intelligently and sensitively to create targeted rewards and incentives will only make consumers more brand loyal and better brand advocates. Reassurance that their data is in safe hands is, of course, also key in the age of transparency."
"The preference for having a plastic vs digital card may seem surprising. It seems we've become habitual in our point of purchase use of physical cards. As we open our purses or wallets, reaching for cash or credit or debit cards, we see a range of cards and are therefore are reminded to collect our points or redeem the value we've accrued. Though we're all app happy, we're less used to accessing them when transacting with brands, especially as most smartphone users have manifold apps on their phones.
At Hawk Incentives, we also believe brands' understandable reticence to 'club together' to create a cross brand smart wallet is also curbing the trend towards digital loyalty schemes. When this does happen we believe consumers will enjoy the nirvana of all loyalty schemes."
The research of 2,500 Brits was carried out by Vitreous World on behalf of Hawk Incentives to understand how consumers feel in April of 2019 about all matters' loyalty.
The Loyalty Evolution report is being unveiled today at Hawk Incentives' customer loyalty summit in Central London.
For further information on Hawk Incentives and to request a copy of The Evolution of Loyalty Report visit www.hawkincentives.co.uk, or contact the team at 0207 419 8191.