In 2019, William Hackett launched a ground-breaking Quad Pawl system within its SS-L5 QP lever hoist: the first lever hoist to incorporate four load bearing pawls.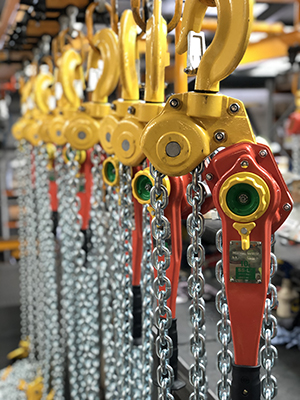 The unique and patented Quad Pawl design enhances the capabilities of the hoist using all four pawls to engage with the ratchet gear in an offset configuration sequence thus enabling finer adjustment and tensioning capability while maintaining pawl and ratchet gear engagement.
A further innovative design feature of the quad pawls enables them to work independently of pawl springs, however, for additional resilience to the hoist is fitted with pawl springs that are captivated from within the brake chamber, making the hoist safer.
 William Hackett has succeeded in establishing the SS-L5 QP internationally and its increasing popularity amongst offshore operators is centred on its quality of manufacture, multi-immersion capability, and its ease of use and transport. Its multiple immersion capability in offshore and subsea lifting and pulling hoist operations is feasible thanks to design and its extensive corrosion protection, these capabilities have been independently verified by DNV.
Ben Burgess, Director at William Hackett, says: "Since our launch of the SS-L5 QP we have seen sales surpass forecast. In part, this is a result of an excellent engineered product after years of continuous research and innovation. However, for today's operators the SS-L5 QP also provides significant cost efficiencies, reduced operational risk and is environmentally friendlier than the previous generation products that have more limited operational life."
We are already seeing a rise in demand across all industries following Covid-19 and this is at a time when offshore exploration and production operations are faced with a growing number of constraints. Our strength lies in our ongoing process of product innovation, which is why we have extended the Quad-Pawl technology in to our full C4 chain block and L5 product range for onshore and offshore use across multiple industries"
"Our QP Quad Pawl technology facilitates efficient utilisation of human resources and optimises the profitability of operations. Increasing operational efficiency and safety is a corporate imperative in all projects," highlights Burgess.