In this issue of Best Practice, we have chosen to recommend ERG (Plastic Fabrication) Ltd for its high-quality custom plastic fabrication that is provided to the process industries.
The ERG Group has over 40 years' experience in providing bespoke odour and air pollution control systems, and ancillary services around the world. The ERG Group functions through its three core divisions: ERG (Air Pollution Control) Ltd, ERG APC Maintenance Ltd, and ERG (Plastic Fabrication) Ltd.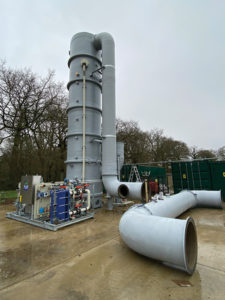 ERG (Plastic Fabrication) Ltd specialises in the high-quality custom fabrication of process industry vessels and associated components from GRP and composite plastic materials. We spoke to Martin Bulman, who has worked in the plastic fabrication industry for 34 years. He began his career at ERG (Plastic Fabrication) on the production floor, and over the course of nine years has worked his way up to the position of General Manager and Director. "At ERG (Plastic Fabrication) Ltd we design, manufacture and supply scrubbers, tanks, pipework, ducting and also skid packages. We can fabricate a range of vessels (which are mainly plastic lined with a GRP covering) and can also handle special commissions for the construction of one-off bespoke items."
Plastic fabrication technology can offer a flexible, low-cost fabrication solution for many bespoke industrial process vessels. ERG (Plastic Fabrication) Ltd has fabricated vessels and units for end customers globally across a multitude of industrial process sectors including water treatment, food processing, pharmaceuticals, waste handling, ventilation, energy generation, metal processing and refining applications, and many more. Sectional vessels, fume hoods, dosing pump cabinets, and chemical scrubbers are just some of the applications these industries can be supplied with.
ERG (Plastic Fabrication) Ltd has a vast arsenal of services to offer and specialises in manufacturing using a wide range of plastic materials including PVC, CPVC, Polypropylene, PVDF, and other speciality plastic for harsh environments such as ECTFE. "As the manufacturing division, our services combine with ERG APC Maintenance Ltd to provide an on-site aftersales servicing and maintenance service. This service ensures any problems are rectified as quickly as possible with minimum disruption. We also have a regional headquarters based in Jordan, which deals with many projects across the Middle East for which we are often the source manufacturer," said Martin.
Other additional services include project management, testing, trial assembly, reconditioning and repair, and emergency call-out for repairs and maintenance. The parent company ERG (Air Pollution Control) Ltd, contributes strong process and engineering design capabilities. By using ERG for the design and ERG (Plastic Fabrication) Ltd for the fabrication, clients can benefit from the in-house design, manufacture, installation and commissioning services available.
In 2021, ERG (Plastic Fabrication) Ltd has relocated to a new four-acre site where it has invested in purpose-built factory and office buildings. "The move has enabled us to consolidate all our UK based functions onto one common site which significantly improves our working efficiency, production quality and production capacity. The plastic fabrication workshop now benefits from a 60 m x 24 m workshop with overhead gantry cranes. This has enabled us to build larger diameter vessels more efficiently, and greatly improves production with a linear workflow of material through the factory via a fabrication shop, feeding into a GRP lamination shop, which then feeds into a final fitting out/trial assemble workshop," explained Martin.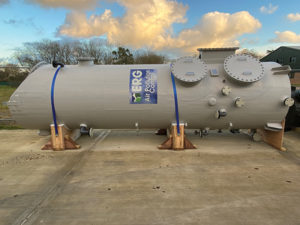 The past 12 months have been challenging for many businesses, however. Martin explained how the company plans to move forward. "I can only see the company improving. Even throughout COVID-19 restrictions, we were lucky enough to avoid the need to place any staff on furlough, and we had a constant flow of work coming through. Our customer enquiry levels have remained high, so the future is bright for ERG (Plastic Fabrication) Ltd."
Of course, it's always good business to foresee any potential threats or challenges the future may bring, and we asked Martin how the company will address these. "We have a great management team that stays abreast of the movements in the supply chain. Materials have had a longer lead-time and prices have increased over the last 18 months owing to supply disruption. Things seem to be improving and currently we have had no issues obtaining materials.  As a company we are trying to minimise any price increases to maintain our competitive position in the current market."
For more information:
T 01403 291 000
info@ergpf.co.uk
www.ergpf.co.uk