ZARGES, the leading provider of cases for the transportation of hazardous goods, is continuing to support the NHS's COVID-19 vaccine booster programme with its K470 case, enabling the safe and hygienic transportation of the vaccine from manufacturer to deployment centres.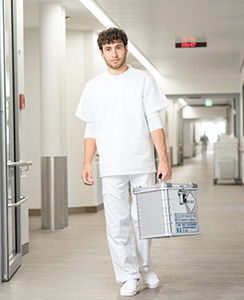 Transporting the vaccine at the right temperature is essential to preserving its efficacy. For the transport operators tasked with getting the vaccine from manufacturer to deployment during the initial roll-out in 2021, it was vital that they invested in rigorously tested temperature controlled casing.
ZARGES's K470 solution was especially configured to meet these requirements. A lightweight, aluminium solution which is available in 25 standard sizes and capacities, from 13 to 829 litres, the K470 universal box has proved a practical, effective means of transporting the vaccine.
Crucially, cases in the K470 range can provide unbeatable temperature-controlled options. In real-world testing environments, ZARGES cases have achieved storage temperatures of -74.3° – making it the ideal container of choice for cold chain logistics.
Mareike Bleile, Product Manager for Logistics and Industry at ZARGES, said: "The success of the first COVID-19 vaccination roll-out is fantastic and we are delighted that ZARGES cases have played a small role in protecting people against the virus. The specific circumstances in which the vaccinations can be transported highlights the importance of investing in the right cases, with the testing regimen and associated certifications that provide ultimate peace of mind. ZARGES is proud to provide a transport solution to the healthcare industry as the booster rollout continues into 2022; rigorously tested and supremely durable, the K470 range guarantees safe delivery, whatever the content."
To learn more about the full scope of ZARGES's transportation casing offering, please visit: www.zarges.co.uk