Top benefits include improving wellbeing and morale (67%) and saving costs (29%)
Close to 60 per cent of firms to invest in supporting hybrid working policies
New research by leading London-based recruitment firm, Totum Partners, reveals that the majority of firms now have a hybrid working policy in place, as worker preferences and economy-wide recruitment pressures drive increased demand for flexible working. This includes 50 per cent of firms which have implemented a company-wide policy, while the remaining 50 per cent have published guidelines that can be interpreted by location or individual team.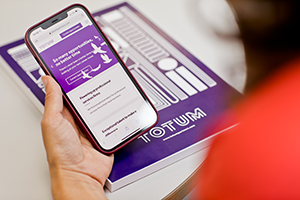 Majority of businesses now offer hybrid working
Most firms (83 per cent) are now offering hybrid working to all employees; however, the favourite option is spending three days in the office with two at home (33 per cent), following by a 50/50 split with specific days decided by individual employees (24 per cent).
While flexible working is increasingly popular, there are some specific requirements businesses are keen to stress. Maybe unsurprisingly, more than three quarters (77 per cent) of firms want their employees to live within a commutable distance of the office – an increase from 52 per cent in March 2021.
Firms placing trust in their employees
However, trust and fair compromise is still a focus for firms. More than a third (36 per cent) are planning to allow employees to work anywhere in the UK, with the same proportion allowing them to work abroad for short periods of time. Additionally, many firms are not making double vaccinations a condition of returning to the office with 83 per cent not making employees take lateral flow tests before going in.
The benefits of hybrid working policies are also becoming more prominent. More than two thirds (67 per cent) suggested that hybrid working models would help improve wellbeing and morale, while 29 per cent stated that hybrid working will significantly save office costs. A third of respondent firms (33 per cent) believe that productivity and performance will improve because of hybrid working – a rise of 20 per cent since March 2021.
Most companies looking to invest to support hybrid working
When looking at investment to support hybrid working, most respondents (58 per cent) said they were planning to invest in this space, with a further 13 per cent thinking about it. It is clear that firms are focusing on investing in office spaces, with most the most popular area being communal areas (94 per cent), followed by desk booking technology (78 per cent) and ensuring meeting rooms are virtually connected for those working from home (78 per cent).
Training is also a big priority for businesses. More than two thirds (67 per cent) are looking to train managers in supporting blended teams with 54 per cent already having training in place for managers to deal with blended working solutions.
However, there is concern that some firms' managers may be ill prepared to deal with blended working solutions, with a third of firms stating they are only thinking about implementing training for managers, while 13 per cent have not thought about training at all.
Tim Skipper, Director at Totum Partners, said: "Sentiment for hybrid working policies is on the rise as well as uptake for these types of policy. It is very positive to see that firms are placing increased trust in their employees when it comes to hybrid working, especially given employees are increasingly taking this into account when making career moves. We anticipate that there will be continued investment into hybrid office spaces and training for managers working with blended teams. It is likely that prominence of these types of policies will continue to grow as we recover from the pandemic.
"The benefits of hybrid working policies are clear. Not only are firms increasing productivity and business confidence, but they are reducing costs at the same time. The firms that can see the potential advantages of hybrid working, and that are embracing these policies, will be able to attract and retain the best talent by delivering the workplace flexibility that employees want and need."
Email: totum@sapiencecomms.co.uk
Phone: +44 20 3195 3240