Interface Force Measurements Ltd is a leading force, torque, transducer and pressure measurement specialist, recognised internationally for its benchmarked manufactured load cells.

Established in 1996 by Neil Johnstone, the business has expanded exponentially to include world-class customers such as: Airbus, BAE Systems, Agusta Westland Helicopters, Formula One Teams, Automotive Manufacturers and Test Rig manufacturers.
With a base in Crowthorn, Berkshire, Interface distributes to the UK, Ireland and internationally: notably Turkey, Greece and the Middle East.
Its flagship distribution products are load cells, expertly manufactured in-house by Arizona-based Interface Inc., alongside the Torque Transducers, associated electronics, multi-axis Load Cells and the XSensor Pressure Mapping systems.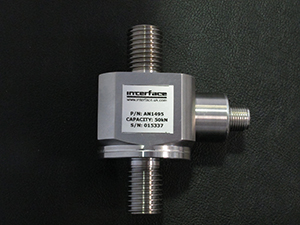 The load cells are favoured by aerospace companies for force measurement due to the innate accurate and repeatable, precision results. Interface Force has repeat custom with automotive, motorsport, universities and medical companies carrying out product development research, including popular demand for load cells for weighing saline bags.
Tony Rokins, Business Development & Pressure Mapping Specialist tells us about the latest exclusive Interface developments, "We have just introduced a couple of new products – The 9325 hand-held digital display indicator.
"This is a replacement and upgrade to our popular 9320 indicator. It can be used to display readings from any force, torque or pressure transducer with mV/V output, up to a sensitivity of ±1 V/V. The 9325 has a microprocessor with 24-bit internal resolution, 2,400 samples per second device and features TEDs (Transducer Electrical Datasheet)."
The upgraded 9325 can interface with any full bridge sensor, with the capability of a live calibration of transducers and comes TEDs-ready. The Interface engineers have designed 9325 with improved memory capabilities: up to six calibration ranges for varying loading settings or different devices. Amazingly, it will even remember the calibration of the previous 20 TEDS devices, using its superior automated recognition feature.
The new digital indicator is easily powered using 2x AA batteries and compatible with any Load Cell, torque transducer or other transducer with mV/V output. In addition, it can be used with any TEDS transducer using templates 33, 40 or 4 and has a Backlit display, 128 x 64.
The 9325 hand-held digital display indicator set-up is remarkably quick and easy but Interface will offer a set-up service for customers who purchase the device with a load cell or other mV/V device.
"The other new product is our Super SC mini S-Beam. This is a low-cost, general-purpose load cell, available in capacities from 100N (25lbf) to 5,000N (1klbf). The Super SC is an environmentally-sealed load cell that's insensitive to off-axis loading."
This small-form factor S-Beam load cell has high stiffness and low defection and is ideal for OEM applications. It gives first-rate resistance to off-axis loads, compared to standard S-Beam designs.

The innovation doesn't stop there as Interface are looking to launch a new remote monitoring application later this year, "We are currently working on a remote monitoring application. The idea is to enable customers to monitor data from their load cells, torque transducers or pressure sensors. They will be able to display data on their Android or iOS devices from anywhere in the world. We are currently planning on launching this service at the EIS's Instrumentation, Analysis and Testing event at Silverstone in May.
"We are always looking for the brightest minds in the business to join us and we have welcomed some recent, new additions to the team: James and Luke. James has come to us with lots of experience, helping us to improve our business support operations. Luke has come to us straight from university with a degree in mechanical engineering. Luke is growing into a technical sales/tech support role. We are pleased to have them both on board and look forward to helping them grow their careers."
Interface will be attending trade exhibitions throughout 2023 and would be delighted to talk to new and existing customers, catch them at the following events:
Instrumentation, Analysis & Testing Expo: The Silverstone Wing, Silverstone Race Track 16th May
Manufacturing and Engineering Week: NEC. 7th-8th June
Automotive Testing Expo Europe: Messe, Stuttgart 13th-15th June
Advanced Engineering Expo: NEC 1st-2nd November
The new 9325 hand-held digital display is available to order online at: https://store.interfaceforce.co.uk
For more information in Interface, please see the details below:
T +44 (0)1344 776666
info@interface.uk.com
www.interfaceforce.co.uk