LP Systems Ltd has over 25 years' experience providing leading automation systems for die-making, sign making, metal and plastic fabrication. This leading company offers a complete turn-key package for customers, around the UK and across Europe.
Based in Nuneaton, at Attleborough Fields Industrial Estate, the company provides an unrivalled product range. These include: laser cutting machines, Easybender automated bending and processing systems and a full range of plastic fabrication equipment.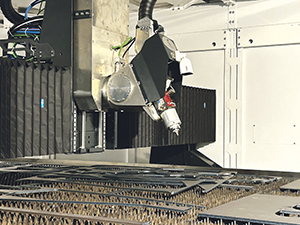 The dedicated Sales & Engineering team offer a fully comprehensive solution package from: initial site survey, full installation, user training, aftersales care, servicing, maintenance and breakdown cover.
Firstly, automation solutions in plastic fabrication include the cutting-edge, renowned Cutlite Penta systems. These are designed for: cut plastics, metal and die boards across the paper industry. Over the last decade, Cutlite Penta has partnered with Ot-Las: a leading Italian brand for the streamlined development of the CO2 laser galvanometers for artisan engraving and decoration.
The LTS Cutlite Penta (CP) RF systems are perfect for a diverse range of applications from: plastics cutting, wood and textile machining. The compact dimensions can even cut through metal, utilising a capacitive head, making this an exceptionally versatile laser machine. Capable of precision-cutting dimensions, due to CO2 laser-radio frequency compatibility, this robust laser machinery offers accurate finishings every time.
The PLUS Cutlite Penta (CP) RF systems however, are the perfect choice for PMMA+ Acrylic laser cutting. The in-built CO2 laser radio frequency sources optimise premium laser cutting. The engineered versatility allows this popular machine to be used for plastics and metal, providing a one-stop shop across differing applications. The capacitive head can be manoeuvred to the cutting head, in cases of metal laser cutting applications. The magnetic linear motors function on board the axes, propel dual cutting head acceleration up to 2,5g and speeds of up to 140 meters per minute.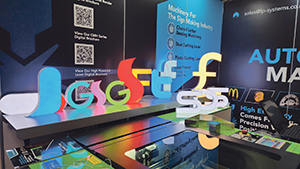 The PLUS CP RF is the industry's choice for larger volumes of quality manufacturing in plastics cutting, providing a cost-effective streamlined process.
Secondly, LP Systems offer leading die-making machines for streamlined automated solutions, from the renowned Cutlite Penta to the SDS Korea.
The LTF (CP) system is the perfect solution for diemakers and in-house die shops, with potential El.En. radio frequency sources offering powers from 750W to 850W, in addition to the LTF system cutting head. This model works quickly, completing finished die boards in record times, due to the cutting head and optional marking head installations. The LP Systems engineers can install the model quickly, allowing production the following day and the integrated control panel, electrical unit and laser source are all designed for streamlined operations.
Lastly, LP Systems can provide cutting-edge sign-making machines, providing fully automated sign-making operations from hole punching to fast bending. The revolutionary Channel Bender SXP letter system for channel letter forming has all the properties to make traditional face-lit through to hybrid channel letter forming. Producing a timeless, beautiful finish, the letters can be almost any height and from 25.4mm to 203.2mm deep. The fully height-adjustable hydraulic hole punching unit removes manual drilling of 6.35mm drain holes and 3.175mm pilot holes for rivets and screws.
For further information, please see the details below:
T 024 76374210
sales@lp-systems.co.uk
www.lp-systems.co.uk