imageHOLDERS, the leading company in self-service kiosk B2B IOT innovations, has today announced its smart hotel technology. The interactive self-service kiosk will provide hotels and guests a streamlined, 24-hour, and secure service.
Smart hotels are one of the fastest trends in the hospitality industry. Self-service devices and connected appliances and amenities create a completely seamless experience for the guest, as well as a powerful business model for the hotel owner.
In keeping with this industry trend, imageHOLDERS is launching its range of connective technology, including self-service kiosks, POS systems, tablet kiosks, connected room utility technology and digital displays. This range has a wealth of benefits:
Efficiency: The kiosks not only improve the speed of existing check-in and check-out services to reduce queues and ensure a smooth flow of guests in lobbies, but they also provide an around-the-clock service in the reception area. Furthermore, this move towards self-service technology also reduces human error, leading to a more consistent and cost-effective solution.
Guest service opportunities: imageHOLDERS kiosks provide guests the option to buy upgrades for their holiday simply and efficiently. This in turn increases opportunistic sales and overall revenue for hotels. The kiosks also offer an easy system for guests to leave feedback, imperative for hotels to understand their customer needs and facilitate marketing and any necessary improvement.
Connectivity: Most impressively, imageHOLDERS kiosks utilises internet-connected devices to create a completely seamless experience for the guest. Devices including lighting, the mini fridge and heating, can all be connected to one device or network for the guest to manage personalise aspects of their stay and hotel room to their preference.
Health and safety: More now than ever, health and safety at the forefront of guests' minds. imageHOLDERS self-service kiosks can be fitted with anti-microbial screen protectors to reduce the build-up of bacteria and germs. These screens are more resilient and can be cleaned with stronger detergents.
Products: Available in the range are counter mounted, wall mounted and freestanding tablet enclosures, as well as larger computer kiosks and 42-inch Totem self-service kiosks.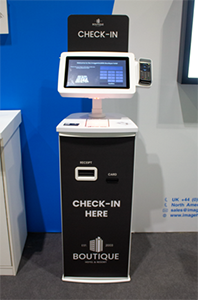 imageHOLDERS was founded in 2003 to support companies with design integration and product development of digital technologies – at the time this was primarily kiosks, plasma screens and digital print. When consumer tablets hit the market in 2012 it was then clear the market had matured and the team reimplemented the original business plan with focus on self and assisted B2B tablet-based solutions that add productivity to business. Over the past seven years, imageHOLDERS has evolved a modular system spanning from phone enclosures to 70-inch touch screens kiosk and digital signage hardware. The team tailor each order to the customers exact requirements ensuring that they get a fit for purpose solution that adds value to their business.
CEO Adrian Thompson had this to say, "We are always looking for ways to cater for customers and the hospitality industry is particularly hungry to rebound post-pandemic.
Our updated interactive self-service kiosks will ensure hotels and guests have access to a streamlined, 24-hour, and secure check-in service using state of the art technology".