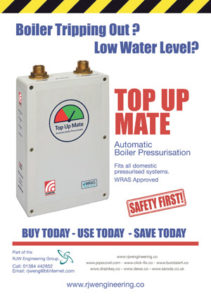 We are proud to feature RJW Engineering Group for our BCR Recommends profile.
Established in 1989 by Richard Wragg, RJW Engineering Group specialises in prototype manufacturing, working with stainless steel, mild steel, plastic and other associated materials to help turn its clients' concepts into reality.
For over 30 years, RJW Engineering Group has been involved in inventing various ideas and taking them to market, and has even achieved a place in the Guinness World Records Book for the largest copper pipe fitting in the world.
"We started out as fabricators and then fell into prototype work," Richard explained. "We're focused on innovation work, helping clients to solve problems, make projects more efficient, and realise their ideas."
Indeed, RJW Engineering Group works closely with its customers to identify their individual needs. "We offer more of a consultancy service," Richard elaborated. "It's a collaborative process – nothing is ever the same because our client base is so diverse, including anything from automotive to plumbing to railway companies, so we have to make sure we understand everything the client needs from us so we can develop the most appropriate solution."
One of the company's current projects is the Top Up Mate, an innovation solution for avoiding boiler shut down due to low pressure. Fitting all domestic pressurised systems, the Top Up Mate is WRAS Approved and can help people save time and money by eradicating the need for unscheduled call outs.
As well as this recent development, RJW Engineering Group has a range of other innovative solutions. These include the Pipe Cowl, which saves up to 15 minutes on boiler installation and is a simple solution for pressure relief termination. There is also the Click Fix, fixing pipes without the need to 'cut' the pipework, and the Burst Alert, which provides automatic action to prevent leaks turning into a flood.
Furthermore, the Drain Early Warning System (DEWS) alerts clients to rising and falling water levels to give the occupant a chance to remove valuable items from the home or replenish water levels. Safety Stair Rods prevent the risk of slips and trips on the stairs, while the Drain Key allows the safe lifting of manhole covers.
With decades of experience and expertise, RJW Engineering Group will no doubt continue its admirable work in the coming years, offering only the highest levels of engineering excellence for each customer it works with.
If you would like to find out more information on everything RJW Engineering Group has to offer, head to the website or get in touch using the contact details below to discuss your needs.
T 01384 442852
rjweng@btinternet.com