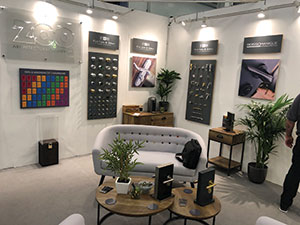 This year Zoo Hardware, leading designer and supplier of architectural door hardware, attended the 100% Design show on 18–21 September at Olympia, London. The show celebrated its 25th birthday this year, showcasing some of the industry's leading innovators, brands and emerging talent. The show featured a selection of anticipated product launches, conversations and debates exploring an eclectic mix of pertinent industry topics. As the largest and longest running design trade event in the UK, it was the perfect place for Zoo Hardware to preview its latest range, Vier Premium, a selection of stainless steel designer level door hardware, which will be launched in January 2020.
This range is from Vier Precision Design, which uses premium materials to create industry leading products. With this new Premium range of designer door hardware, customers will be able to make a bold statement with their interior design, while benefitting from the high quality materials found in the Vier ranges.
"The show went very well for us," explained Jonathan Clarey. "We received plenty of positive feedback and it was a great chance to try something different and get our name out there. It was a fun experience and gave us the opportunity to get together with others involved in the industry and potential customers and learn from each other. We're hoping to attend again in a few years when we have some more new ranges that would interest the design trade customers."
Indeed, after a busy year for the company, 100% Design was the perfect place for Zoo Hardware to explore new horizons and create opportunities for new business. With its ever-expanding product range, the company is constantly offering something new to cater for its expansive customer base.
Zoo Hardware offers an excellent range of door handles, knobs, locks, cylinders, door closers, hinges, and much more. All of these are produced to the finest quality in aluminium, brass, steel and zinc, never compromising on quality for cheaper prices. If you would like to find out more information on Zoo Hardware and be notified when its brand new Vier Premium range is released, head to the website or get in touch using the details below.
T 01228 672900