Since being established as a timber merchant in 1975 by the Whiley family, Havwoods has become renowned in the UK and worldwide as a leader in the wood flooring market, both technologically and aesthetically.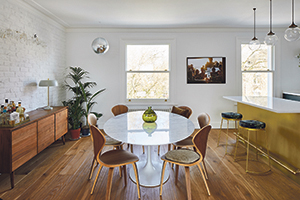 With headquarters in Carnforth, Lancashire, Havwoods also has showrooms in London and Manchester, as well as business operations in Australia and a further three showrooms in Sydney, Melbourne and Newcastle. The company also has a growing business in North America with a showroom in New York, plus its first entrance into the Canadian market with a showroom in Toronto. To further its global reach, Havwoods also works with numerous partners across the world including India, UAE, Portugal, New Zealand and beyond.
"We provide solutions for the wood flooring and wood cladding market," explained Paul Moody, Global Marketing Director. "We offer an end-to-end design and product consultation service to ensure we supply the best possible product to meet the customer's needs, whether that's residential end users, the architecture & design industry, or tradesmen and contractors.
Underpinning its outstanding quality of service is Havwoods' unrivalled choice of products. "We are constantly evolving the product selection, and our range changes up to 25% on an annual basis.
Furthermore, our connections with global wood flooring mills and manufacturers ensures we are uniquely positioned to source the best possible products, while also staying ahead of the market in terms of product innovation. In addition to this, our stock holdings ensure we can support even the largest scale projects.
"We offer 'wood that works'. We aim to be a solution provider, offering the best possible wood flooring and cladding solutions. Once we've provided the correct solution, our goal is to 'create talking points in spaces', in other words, an installation or product that gets design conversation and excitement flowing."
Recently, Havwoods launched PurePanel®, a range of seven pre-finished wood veneer boards to tie in with its PurePlank range of flooring. There are six boards in oak and one in walnut, designed to match some of Havwoods' most popular colours. These 3m x 1.2m boards are incredibly versatile for use in cladding, cabinetry and fabrication, bringing Havwoods' high quality products to every surface. Samples of the PurePanel range are available to order now.
Moving forward, Havwoods is continuing to expand its export operations. For the second year in a row, the company has been listed on the Sunday Times International Track 200, which is a listing for the companies experiencing the highest export sale growth. "In the last year, we have risen up the rankings from outside the top 100 to number 34 on the list, an achievement we are very proud of, and we look forward to continue this in 2020 and beyond," Paul said.
Maintaining a busy calendar of events each year, Havwoods often attends sector specific trade shows both as an exhibitor and attendee in the UK and worldwide. Recently, the company attended the Domotex and BAU trade shows, as well as exhibiting at BDNY in New York. Boutique Design New York has been fantastic at raising the profile of Havwoods within the North American and New York market.
Building upon its decades of success, Havwoods is continuing to ensure it stays up to date with customers' ever-changing needs. Through developing its digital tools, accreditation as well as expertise around care, maintenance and installation, Havwoods ensures it remains versatile and adaptable enough to stay abreast of customers' challenges.
See the details below to find out more information.
Contact
T 01524 737000
info@havwoods.com
www.havwoods.com/uk