Whilst the government has set an ambitious target when it comes to heat pumps (600,000 a year by 2028) but following the recent closing of the Green Homes Grant, there are no guarantees it will look to make other funds available to support homebuilders and renovators with the cost of installation.
In this article, Emma Bohan, General Manager of one of the UK's leading ground and air source heat pump installation companies – IMS Heat Pumps – explores why now is the time to act if you want to take advantage of the only funding available.
IMS Heat Pumps
Established in 1997, with offices in Perth (Scotland) and Sheffield (England), IMS Heat Pumps has been designing and installing domestic heat pumps for over 20 years. The highly experienced team of skilled installers and in-house designers create bespoke systems, designed for the individual needs of the customer.
"No two projects are the same" says Emma. "We work collaboratively with clients from design through to installation, to create a warm and low carbon home that meets their specific requirements."
"We also believe we set the industry bar high when it comes to delivering outstanding customer experience and responsiveness" continues Emma. "and, unlike most in our industry, we do not take deposits or advance payments which makes us a financially safe choice for clients."
Funding for heat pumps
Whilst big promises were made with the Green Homes Grant (GHG), with vouchers for most people of £5,000, the scheme was recently closed with just a couple of days' notice for new applications.
However, the Domestic Renewable Heat Incentive (RHI) scheme has been around for years and provides post installation support with payments of up to £35k for Ground Source and £11,200 for Air Source. This scheme is set to end in March 2022 and there is currently no commitment from the government for financial support after this.
"The Domestic-RHI has always provided excellent support levels and is available for self-builders, unlike the Green Homes Grant." explains Emma. "with the government under tremendous financial pressure because of the Covid-pandemic, what happens after the RHI scheme ends is anyone's guess. Now is the perfect time to install".
Financial support might never be this good again!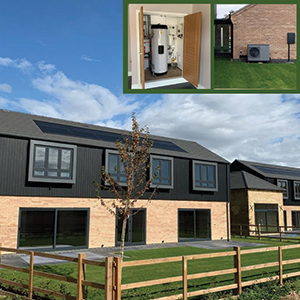 Industry expertise
IMS has recently added to their team, who operate within a couple of hours radius of their Scottish and English bases. "We are delighted to have taken on three apprentices and a senior engineer" says Emma. "Like most businesses, the start of the pandemic brought some instability, but we are seeing a renewed enthusiasm for heat pumps on custom-build and renovation projects aided by the buoyant property market.
"Clients come to us specifically for our reputation in the domestic renewable heating market. We regularly attend 'Homebuilding & Renovation' and 'Build-it Live' but as these have been on hold, we have gone 'virtual', recently as Heat Pump Experts for the Homebuilding and Renovating "Ask the Expert" show via zoom. We are also doing Q&A sessions with the Ground Source Heat Pump Association."
IMS Heat Pumps design, supply, install, commission, service and maintain ground, air, and water source heat pumps and under floor heating and radiator systems to create cosy, low carbon homes.
For more information visit www.imsheatpumps.co.uk or call 0114 327 0100