South West Lightning Protection, is a leading provider of lightning protection installations and testing services throughout the UK. Established in 2014, by Gary Libby, Gary has 40 years of experience in the industry and maintains a team of lighting conductor engineers and designers accredited by the Association of Technical Lightning and Access Specialists.
"South West Lightning Protection holds Health and safety accreditation by Safecontractor, which audits the company training and safe systems of work, all our engineers are CITB card holders for the works they undertake and are DBS checked." Gary Libby stated. "Our core service is lightning protection installations and testing; we also design new systems, as we are accredited designers."
With two office locations based in Plymouth and Scotland, South West Lightning Protection is ideally situated at both ends of the country, enabling them to be able to provide services throughout the UK.
Maintaining a comprehensive range of expert services, South West Lightning Protection provides an abundance of specialist electrical services including lightning protection risk assessment, design & installation, test and inspection of all lightning conductor systems, test and inspection of safety line systems, early streamer systems design, installation & testing, earthing services and rope access.
The company maintains a diverse portfolio of clients, spanning across several industries including Commercial clients, Electrical contractors, Ministry of defence, NHS, Water companies, Telecoms & Facilities Management companies and individuals.
Dedicated to providing outstanding levels of customer services, South West Lightning Protection prides itself on providing a truly personalised service.
"As we are a small company in comparison to our competition," Gary explained, "We strive to provide a personal service to our clients. For instance, the client has direct access to the South West Lightning Protection point of contact and can contact inspection and installation engineers directly which speeds up client response times. We do not have different company contacts for quotes, works or accounts, our clients only have to deal with one person."
Regardless of project size, South West Lightning Protection is well equipped to provide technical assistance on any aspects of its clients lightning protection systems.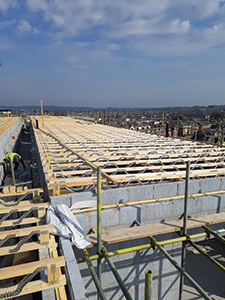 A noteworthy project for the company, South West Lightning Protection were asked by the RNLI based in Poole, Dorset to provide lightning protection for their new Explosive Store. In addition to this, the company also carried out repairs and testing, to the Main College and associated ancillary buildings on the site.
In terms of the latest developments for the company, Gary told us that, "We have recently commenced testing of Roof mounted Horizontal cable based mansafe systems, permanent ladders, guard rails and safety anchors. We provide these services independently from our lightning protection services or combine them which can provide a cost savings for clients."
With the on-going COVID-19 pandemic effecting many industries, there have been many challenges for company's especially surrounding lockdowns, furlough and delays and decreases in production and sales. South West Lightning Protection has also faced challenges, Gary remarked, "COVID-19 has caused disruption to the Lightning protection industry, however as South West Lightning Protection provides safety critical works to the MOD, we are classed as essential workers so have maintained a reasonable level of works throughout the pandemic.
We have produced a company COVID policy which protects both our operatives and clients, and we work with clients to ensure we are in compliance to any restrictions on works which may be stipulated by customers."
Able to maintain its services throughout the pandemic, South West Lightning Protection has not only maintained its working levels, but the company has also managed to grow and adapt to new procedures and regulations. Moving into the company's future, South West Lightning Protection plans to continue its growth within the lightning protection sector and is dedicated to its preservation of providing long term employment to its existing work force and additional, new employees.
With such an array of expertise and dedicated services, South West Lightning Protection is perfectly positioned with the skills to ensure that whatever your requirements, the company is here to help and carry out all work in an efficient, professional and safe manner.
For any other information, head over to the website below or alternatively, to speak to the company directly, please see the number stated.
T 07807 334441
www.lightningconductor.org