According to the latest statistics from online insurance comparison site The Van Insurer, gardeners are the most accident-prone tradesmen in the UK, with those in the North most likely to be involved in a van collision where they are at fault.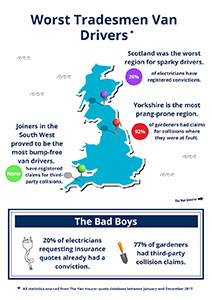 The van insurance specialist analysed tradesmen quotes and claims processed throughout 2017 and identified that 77 per cent of gardeners had a collision claim; the highest percentage of all tradesmen.
Yorkshire was highlighted as the most prang-prone region, with 92 per cent of fault claims made by gardeners being for third party collisions. At the other end of the scale, joiners were identified as the most careful drivers, with less than two-thirds of fault claims due to collisions.
Joiners in the South West also proved to be the most bump-free van drivers, registering no at-fault collision claims. However, it isn't all bad news for gardeners, who are the least likely to get caught out speeding, driving without insurance or using a mobile phone when driving.
Electricians proved to be the bad boys of tradesmen, with 19 per cent of insurance quote requests already carrying a motoring conviction. Scotland was also the worst region for sparky van drivers, with 28 per cent of electricians registering convictions.
Jade Isabelle, commercial director at The Van Insurer, said: "For tradesmen, their vans are an integral part of their business. Having a prang could affect their ability to work, affecting both their reputation and bottom line. Having the right insurance in place is just good business sense. Our extensive panel of insurance brokers can cover tradesmen drivers, wherever they are in the country. While collisions and convictions can affect insurance cover, we are pleased to be able to offer the majority of van drivers the policies they need, at competitive prices, so they can focus on getting the job done."
Statistics from The Van Insurer
COLLISIONS
Percentage of third party collision claims with drivers with fault claims (Driver hit third party):
#1 – Gardener (77%)
Worst region (Yorkshire 92%)
Lowest claims – Joiner (65%)
Lowest area – South West (0%)
CONVICTIONS
#1 – Electrician (19%)
Worst region (Scotland 28%)
Lowest convictions – Gardener (11%)
Lowest area – (N.Ireland 3%)
#1 – Painter & Decorator (43%)
Worst region (South East 56%)
Lowest convictions – Gardener (28%)
Lowest area – Scotland/W.Midlands (15%)
Using a phone – third of plumbers of
#1 – Plumber (15%)
Worst region (N.Ireland 33%)
Lowest convictions – Gardener (6%)
Lowest area – Yorkshire/North East (0%)
#1 – Gardener (20%)
Worst region (East Midlands 38%)
Lowest convictions – Carpenters (11%)
Lowest area – Yorkshire/Scotland/NorthEast/North West (0%)