At Building and Construction Review, we are dedicated to showcasing companies who offer the highest quality services in their field and who have an acute focus on excellent customer service. This is why we are proud to feature Davison Forklift Ltd for our BCR Recommends profile, for its reliable, specialist services in the hire and sales of forklift trucks.
For the past 42 years, Davison Forklift Ltd has firmly established itself in the material handling sector and has a team of trained forklift engineers that carry out on-site repairs, servicing and health checks. The company specialises in the hire and sales of forklift trucks and is the authorised dealers for Clark and Ausa. With extensive on-site facilities, Davison Forklift Ltd offer servicing, reconditioning and repairs to machines.
Founded by John Davison back in the mid-sixties, Davison Forklift Ltd was born out of his frustration of not being able to find a suitable forklift for his planting business. Year on year the company grew and under John's guidance became a Ltd company in 1976.
Since, it has explored new sectors and moved its attention into the hire and sales of new product ranges. By expanding its product range, its ability to manoeuvre into new sectors has enabled Davison Forklift Ltd to enter higher markets and develop a broader customer base.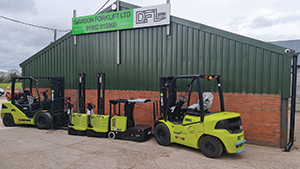 Recently the forklift industry across the UK has become very buoyant, seeing lead times reach in excess of up to 30 weeks wait for delivery from manufacturers. This is a global issue which could be endured until 2022. Davison Forklift Ltd has predicted a modest strengthening in the market for the sector despite the effect of COVID-19 and various other industry issues and switched to a more forward-thinking approach.
"We are expecting 20 forklifts to arrive soon. It is difficult as we have to plan a year ahead, which is something we have never experienced before in this industry – even the second-hand market is few and far between. We have had to overcome obstacles in order to keep the business thriving but also look into new areas in which we could exploit and grow into." Stated Adrian, Director.
As a reaction to the current forklift market, to move forward effectively, Davison Forklift Ltd has changed its approach to buying in new forklifts for sale only.
Offering more flexibility, Davison Forklift Ltd has turned its attention to the hire and sale of tractors and telehandlers. The company offer two telehandlers: JCB 540-140 and JCB 535-125. JCB's total commitment to its products and customers has helped it grow from a one-man business into Britain's largest privately owner manufacturer of telescopic telehandlers and industrial forklifts. Both come with the latest technology and advanced design providing low fuel consumption, reduced noise, high torque and power output, total reliability and minimal maintenance.
Davison Forklift Ltd has one tractor manufacturer available for hire and is proud to stock the New Holland T7.210. For over a decade, New Holland has been established as the Clean Energy Leader for its active promotion and development of sustainable agricultural technology, offering solutions that improve efficiency and productivity, while respecting the environment.
Even though the forklift industry hasn't been as strong as previous years, it is the core of the business, and the sale of these machines was its traditional birthing. As the company expects predicted growth in the forklift market for the future, forward planning has enabled them to have worked closely with its dealership with Clark, for their new EXPi range of lithium iron electric forklifts. The company has been heavily involved in the promotion of this new range and is excited to see the reaction within the electric market. The EXPi range of electric four-wheel forklifts has capacities from 2.0 to 3.2 tonnes and 48 Volt technology. The machines are reliable, environmentally friendly, and all round suitable for both indoor and outdoor use. In many applications, these trucks are in no way inferior to a combustion engine in terms of performance.
As of January 2021, Davison Forklift Ltd moved its fully equipped workshop to a new premises near Telford, Shropshire. With 40 acres of land to utilise, upon planning permission being granted, Davison Forklift Ltd plan to build a mini business park which will house a complete redevelopment with space to hold new machinery as it opens its doors to new territory, focusing heavily on North Wales and Shropshire regions.
On the 25th of August 2021, Davison Forklift Ltd will attend the Stafford County Show, which is an agricultural show where the company will showcase its forklift, tractor and telehandler machinery. This is an opportunity for the company to reach new clients and deep dive into the farming industry, where it will stage its machinery to corn merchants and arable farmers.
Davison Forklift Ltd is an industry leader, offering everything from material handling, new forklifts, long and short-term machinery hire and service. Davison Forklift Ltd give a thorough examination of each forklift purchase, giving it a lifelong maintenance guarantee.
For more information, see below.
T 01952 915060
sales@davison-forklift.co.uk
www.davison-forklift.co.uk