Established in 2010 by Alexander Rakita, AR Architecture was set up to provide turnkey solutions for architecture services. Derived from Alexander's impressive 20 years' of experience and internationally spanning career, AR Architecture has expanded significantly since its inception. It now maintains a dynamic and ambitious multilingual cosmopolitan team, which boasts a multitude of experience in complex cross-cultural settings and various types of projects ranging from houses to airports to master planning.
"We provide a comprehensive service – everything including architecture and interior design from initial concept to completion, statutory consents, project management and construction contract administration, acting as the lead consultant on behalf of our clients" – says Alexander Rakita, Director.
Based in its main office in Hampstead, North-West London and with a new subsidiary in Portugal, AR Architecture is an innovative architectural practice with a global presence, providing a full range of comprehensive professional services in complex inter-cultural situations.
Working on an international scale, the company is well-equipped with first-hand knowledge of how to implement the strictest industry standards and find creative solutions for the most complex and demanding projects. Notably, the company has been recognised for its global services and both the practice and its team members have received national and international awards.
Through the company's flexible and diverse structure, AR Architecture provides a full range of architectural and a broad scope of consultancy and management services. This enables the company to work in a multitude of different sectors including residential, commercial, mixed-use and the hospitality.
On most of its projects, AR Architecture uses Building Information Modelling (BIM) based on Autodesk Revit software. The technology allows to build a virtual 3D model that can be explored and manipulated much further than any 2D drawings can. Crucially, BIM provides a better understanding of how elements of the project work together. With BIM one can walk through the project's spaces, see relationships between materials, plant and structure. Budgets are much easier to prepare and keep on target, whereas potential problem areas and clashes can be detected at an early stage. BIM allows to produce a competent schedules and specifications for each aspect of the project.
The company offers BIM-based design services as standard without any increase to its fees. To fully benefit from the BIM technology, a specialist 3D laser scanning of the building rather than a traditional 2D measured survey is required.
AR Architecture prides itself on working closely with each client and ensuring that the project is tailored to meet their specific requirements. This collaboration helps the company to understand their client's needs and realise their vision, developing clever, innovative solutions to minimise the limitations of budgets or planning restrictions. The bespoke approach to each project enables AR Architecture to come up with unique responses to specific context, landscape, budget and statutory constraints.
"We are an award-winning designer, and we provide full transparency for our clients, dedicating our time and skills for them to be in control of their project" – Alexander says.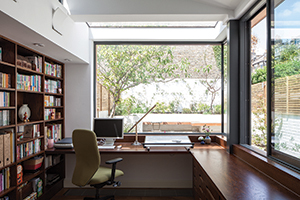 This is of the utmost importance when working with private homeowner clients, as the company helps them to understand their needs and personality, to sculpt and create a space which fulfils their needs and most importantly, feels like Home.
Through the company's combined expert knowledge, AR Architecture does not shy away from the challenges posed by conservation areas or listed buildings but instead, thrives of them. AR Architecture excels in this area and has an abundance of experience in obtaining the right consent for these schemes.
In terms of its latest updates, Alexander outlined a couple of noteworthy developments for the company: "We are pleased to have opened our subsidiary in Portugal and hope to offer a turnkey solution over there through a network of trusted partners. The pandemic was difficult, and we did have to part furlough our team, but the workload is now increasing and we are getting up and running again.
We did also manage to acquire a new partnership during this time, with an Israeli company that provides electrical automated car parking solutions. A truly innovative concept, these car park systems enable drivers to leave their car in the lift at the entrance and the car is then transported to a parking space electronically. The system provides far more capacity, efficiency and ecological benefit than its competitors; it is also more flexible and suits most complex spaces.
In the future, we will be looking to acquire public financed work and expand further internationally and into other sectors. We will of course continue working privately while hoping to reach more developers and larger public builds. Also, we are currently developing a new client-friendly digital interface to help us increase our offering for our clients."
For more information, please see the details below
T +44 (0)207 209 2851
www.ar-arch.co.uk