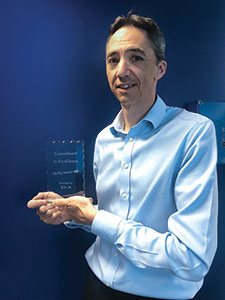 Building and Construction Review is proud to announce that The Van Insurer has been chosen to receive our Commitment to Excellence Award. "To be recognised in this way is really fantastic!" said Ed Bevis, Commercial and Marketing Director. "It's proof that we're heading in the right direction and bringing a service to our customers that is second to none."
Established in 2009 following the successful launch of its sister site, The Bike Insurer, The Van Insurer is an online insurance price comparison website, offering quotes for almost any type of van and cover requirements. Using its comprehensive broker panel, which comprises some of the UK's best-known commercial vehicle insurance providers, The Van Insurer aims to make organising van insurance easy, quick and cheap.
Its website uses some of the industry's most advanced software, and the company is constantly improving the user experience in order to provide customers with the most competitive prices available.
"We aim to help any and every van owner with their insurance needs. We provide the majority of our quotes for builders, so it's great to know that we're helping to keep the wheels of the industry turning. We also have a fairly even split between commercial and private quotes, which shows how accessible we are to all van owners and drivers," explained Ed.
Although the van insurance market is small in comparison to the car market, it is one of the fastest growing sectors. For this reason, The Van Insurer ensures it maintains a programme of constant innovation to establish and uphold its competitive edge.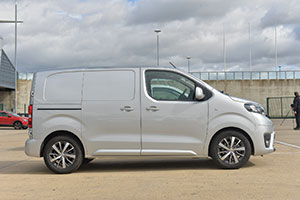 What's more, The Van Insurer's 'Cheapest Price Guarantee' helps the company to remain a market leader, guaranteeing that if owners find a cheaper van insurance quote anywhere else online, The Van Insurer will beat it.
The Van Insurer is committed to listening to its customers' feedback, allowing for the continual improvement of its services. In fact, the company has maintained a highly impressive 4.6 out of 5 on reviews.co.uk, proof that The Van Insurer is continuing to move in the right direction.
As well as this innovation and high-quality customer service, The Van Insurer also understands that some customers prefer a personal touch, so it provides a telephone quotation service for van owners with specialist van insurance requirements.
The company also ensures it remains present and engaged across its social media profiles and has been growing its following in recent months. Undoubtedly, The Van Insurer is aware that the van community likes to be part of the conversation, and its regular 'Myths of the Road', 'Transit Tuesday' and 'Throwback Thursday' posts are becoming increasingly popular as its community of van owners expands.
Indeed, readers are likely to have seen one of the company's articles in the press, whether it's covering insurance hotspots, quirky van driver occupations, or Top 10 Vans; rather than just a price comparison company, The Van Insurer is there to encourage lively debate and keep its customers up to speed with what's occurring in the industry. "We work with a lot of trade specialists whose vans are their lifelines, but we also work with hobbyists and have a big modified van customer base that's continuing to grow," explained Ed.
"We recently launched a dedicated service for modified van owners. We know that these vans can be tricky to find insurance cover for, so this bespoke service means they can call a dedicated telephone number and speak directly to a member of a specialist insurance team. Once they've discussed their unique needs, they'll receive a quick and competitive quote. We think it's another good example of how we like to listen to the needs of our customers." Without a doubt, The Van Insurer has a proven record of listening to and addressing its customers' needs and will only continue to improve and expand upon its services in the coming years.
"We're constantly evolving to meet the needs of the van owner community", concludes Ed. "We're committed to improving the overall customer experience of purchasing van insurance and the competitiveness of the quotes provided."
For more information, on The Van insurer, including terms and conditions and details of the Cheapest Price Guarantee, visit www.thevaninsurer.co.uk or follow on social media via Facebook @VanInsurer, Twitter @Vaninsurer and Instagram @thevaninsurer.