Data released by the Society of Motor Manufacturers and Traders (SMMT) earlier this month painted a very positive picture for the van sector. Not only were 2019 registrations up by 2.4% over the year, but it was the most successful year for van registrations since records began.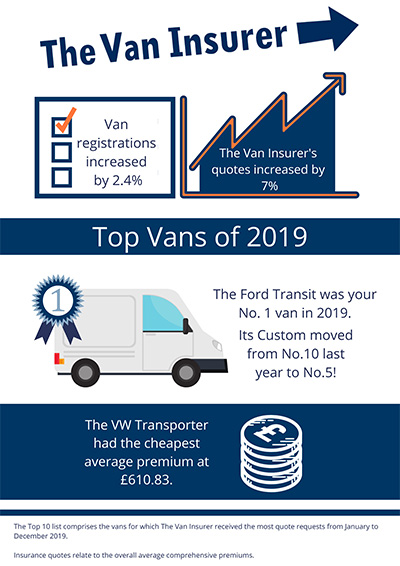 The latest statistics from insurance price comparison experts The Van Insurer have further reinforced this positive outlook. According to their latest data, they processed a hefty 7% more van quotes in 2019 compared with the previous year.
Ed Bevis, Marketing Manager at The Van Insurer, said, "The latest registration statistics reinforce the positive outlook we've gleaned from our own data. Here at The Van Insurer, we've enjoyed a bumper year for insurance quotes, which shows huge market appetite.
"We're seeing both existing and new customers coming to The Van Insurer for their quotes, safe in the knowledge that our 'Cheapest Price Guarantee' will ensure that they get the best deal. We're looking forward to helping even more van drivers find the insurance options that best suit their needs for this year and beyond."
Most popular vans of 2019
With more vans on the road than ever before, The Van Insurer has analysed its quote data from last year to identify its Most Popular Vans of 2019*.
1. Ford Transit
Once again, the Ford Transit reigned supreme in 2019. A third of quotes processed related to Ford's popular load carrier, with the average insurance premium coming in at £1,288.95. With adaptability, flexibility, various load lengths and several configurations on offer, it's easy to see why the Transit retained the top spot from 2018.
2. Vauxhall Vivaro
Another van holding steady in 2019 was the Vauxhall Vivaro. It maintained its second-place ranking from 2018 and generated 12 percent of quotes. Vivaro drivers could expect to pay an average £1,002.69 to keep their van on the road but, boasting strong styling, cutting-edge tech and comfort, many Vauxhall fans would say it's well worth the investment.
3. Ford Transit Connect
The Transit Connect was another of Ford's vans to make the top three. Around 10 percent of quotes were attributed to this little mover, with the average premium quoted at £1,042.64. With a sophisticated new look, comprehensively updated interior, and more advanced technology than ever before, the Connect looks set to stay firm in 2020.
4. Mercedes-Benz Sprinter
The Mercedes Benz Sprinter was the first mover of 2019, nudging up from the fifth spot in 2018 to fourth place last year. Mercedes has focused on safety for its latest edition, with enhanced brake innovations and improved drive-assist technology. Coupled with competitive finance deals, it's easy to see the appeal. On average, drivers can expect to spend around £1,669.51 on their premium.
5. Ford Transit Custom
Ford's Transit Custom has been the biggest mover of 2019, leaping from 10th place in 2018 to fifth spot. Last year it generated seven per cent of top ten quotes, with the average premium costing £1,078.11. Toughness, functionality and reliability have always come as standard, but a wider range of innovation and smart technology has clearly helped to boost its appeal.
6. Volkswagen Transporter
Sixth spot went to the Volkswagen Transporter, which also generated the lowest average insurance quote of £610.83. Volkswagen's focus on space, connectivity and safety, coupled with comfort and practicality, has clearly helped it to maintain its top 10 ranking.
7. Citroen Berlingo
The Citroen Berlingo was another van that maintained its ranking from last year, holding steady in seventh place. Seven percent of quotes generated were for the Berlingo, with the average quote coming in at £926.53. Citroen has worked hard to boost its appeal as a bold and innovative van and has enjoyed a haul of award wins, and a top 10 ranking, for its efforts.
8. Vauxhall Combo
Vauxhall's Combo bagged eighth place in 2019, with drivers expected to pay an average £1,035.58 for cover. It's another multi-award winner, and for drivers looking for choice, efficiency and fuel economy, it's clearly a good option.
9. Renault Trafic
The Renault Trafic clinched ninth position in the rankings, generating an average customer quote of £1,001.66. Renault boasts endurance and robustness in addition to comfort and safety, so it's a great choice for drivers looking to 'get the job done'.
10. Volkswagen Caddy
Volkswagen's Caddy was the final van to secure a place in the top 10. It was also one of the more economical vans to get on the road with an average quote of £972.12. It's another van that offers functionality and versatility as standard, in a neat and compact form.
Ed says, "Here at The Van Insurer, we are used to handling quotes for drivers with various specific needs but it's always interesting to see how some models stand the test of time, emerging as frequent favourites. Whatever their requirements, we like to remind all of our customers that we can help to find a quote that works for them**."
For more information on The Van Insurer, including its Cheapest Price Guarantee, visit: www.thevaninsurer.co.uk or follow us on social media via Facebook @VanInsurer, Twitter @Vaninsurer and Instagram @thevaninsurer.
*The Top 10 list comprises the vans for which The Van Insurer received the most quote requests from January to December 2019.
**Insurance quotes relate to average comprehensive premiums. Prices are dependent on external factors including regional variation, individual van specifications and use.