Over the past 12 months, Barnes Associates have been busier than ever, receiving a wide, and varied workload, its team of surveyors have not only grown in numbers but have been gaining further training on many specialist areas that the company work in to better serve its customers.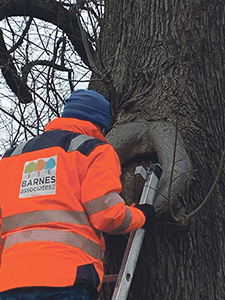 The company's core areas of work include providing tree surveys for development BS5837, including arboricultural impact assessments and tree protection plans. If you're developing near trees, a BS5837 tree report maybe requested which Barnes Associates can provide. We have extensive experience in this field and having undertaken additional training in this area, Barnes Associates can provide high quality plans which allows information to be clearly understood by quickly identifying tree dimensions, and considering categories, shade potential and Root Protection Areas (RPA). "It's often-worthwhile holding back on designing the proposal until the root protection areas (RPA'S) and tree categories are known, if the proposal can be positioned outside RPA's or away from high grade trees this can be defended more easily," stated one surveyor from Barnes Associates.
Working alongside landowners, developers, architects, and planners, Barnes Associates is sure to find the most realistic, cost-effective solution to tree problems for both small and large-scale developments. When working on building sites, it's important that BS5837 tree surveys are provided onto topographical plans for small and large-scale schemes to ensure an accurate base plan is used. "Our tree data information provides the tree constraints for a site, including Root Protection Areas (RPA) that need to be taken into account when designing a site. Avoiding these areas will make the planning process easier. Once the layout is provided, we overlay the tree data and provide feedback on any alterations required, perhaps there are infringements that can be designed out. If we are brought onto the design team early on, we can help iron out tree-related issues. This is part of the arboriculture impact assessment works (AIA). If sites require engineering solutions to accommodate trees, we can advise on this too as we work very closely with engineers to provide solutions where others have failed," stated Sue.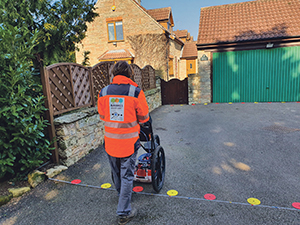 For sites that need to work close or near to trees, Barnes Associates can provide Arboriculture Method Statements (AMS) that offer more detailed information on how to undertake safe work, whether that be soil excavations or foundations nearer to trees. All plans provided are in CAD 2D or 3D format and there is also scope to receive a full tree canopy and site assessment by drone. Perfect for the harder to reach areas such as woodlands or Ash Dieback in woodlands, a drone will deliver a better understanding of canopy features and vitality levels, as well as providing high quality aerial photographs for future planning and landscape design. This service is known as the Arboricultural Further Investigation Drone (AFID) and is operated by one of the company's qualified UAS pilots. The drone can reach a top altitude of 120m, take videos or photographs in 4k quality and is now available for small and large scales sites. Furthermore Barnes Associates also provide tree risk assessment surveys for clients in the education, industrial, and housing sectors amongst others.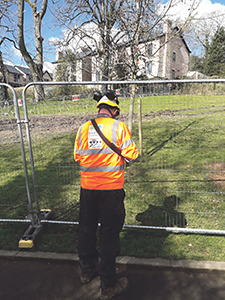 When speaking with Sue, she mentioned some recent changes that have occurred within the company. "At the beginning of April 2022, Tree Diagnostics Ltd was merged into Barnes Associates Ltd. This change streamlines our administration for the two companies and enables the consultants, and sales teams to be effective in customer care and serving our widening customer base. Tree Diagnostics is a specialist sales department importing specialist equipment by Fakopp Enterprises (from Hungary), and we provide training for tree surveyors in the UK. The contracting side of Tree Diagnostics was undertaken by the specialist team at Barnes Associates more often for the use on construction sites."
Barnes Associates' ability to offer such industry specific services showcases a level of expertise and experience that is unrivalled to any competitor. Having highly accurate knowledge of all things 'trees' means it does not provide a multi-disciplinary approach. "We even have other multi-disciplinaries arborist often come to us for our specialist services which they are unable to deliver to their customers," stated Sue.
Continuing its growth trajectory throughout 2022 and beyond is paramount to Barnes Associates as it is now well-known as being one of the leading tree consultancies in the UK. Its ability to deliver answers and solutions where others have failed is the lifeline to which many of its customers rely on. Often taking on projects that have failed, Barnes Associates works to achieve success for these clients in gaining planning in regard to trees.
For more information, please see below:
T 01423 322371
info@barnesassociates.co.uk
www.barnesassociates.co.uk