Precolor Tank Division has been serving the water industry for over 50 years, and started life manufacturing mannequins and swimming pools.
On this foundation, Precolor developed into the company it is today, manufacturing the UK's largest range of WRAS approved one piece rectangular water tanks, as well as a range of semi sectional water tanks and sectional water tank panels that can be made to suit specific sizes and GRP kiosks and housings.
While building the business, Precolor was involved in laying the foundations for the British and European standards, and was part of the working group that drew up the standards with which all approved water tanks must now comply.
Manufacturing from its own purpose built facility in the heart of the midlands, Precolor has easy access to all parts of the UK and ports for exporting. Precolor designs, manufactures and installs its products, giving it full control of production schedules and costs, as well as keeping overheads to a minimum.
Not one to stay complacent, Precolor also continually invests in research and development, with a mission to introduce new and innovative solutions to benefit its customers. This is complemented by a dedicated team of highly skilled and experienced staff, who ensure that customers continue to receive the highest quality water storage tanks, all of which are handmade with great care and pride.
Precolor's one piece GRP Water Tanks are ideal for cold water storage in the absence of constraints and with the largest tank capable of holding nearly 100,000L there is no need to have a sectional tank with a costly install. The absence of joints and internal supports means there are no areas that are difficult to clean thoroughly.
All Precolor's GRP Water Tanks are made to BS EN 13280 : 2001 specifications, and are lightweight and easy to transport and handle. Pre-formed cut outs to accommodate tank connections and fittings are provided, and the GRP material Precolor uses can be easily cut and drilled using standard plumber's tools.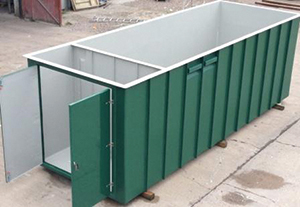 This means that even large water storage tanks can be quickly and easily positioned and installed in new buildings under construction, or in old buildings where access is not limited.
Precolor can also manufacture bespoke tanks to specific shapes and dimensions. Thanks to Precolor's decades of experience working with GRP, it can offer a complete service from design and mould making to final manufacture and installation.
As well as water tanks, Precolor can also offer a range of other related products made from GRP. These include drip trays, baffle plates, weir plates, centre plates, lids & access covers. Drip trays help to temporarily store any overspill. The plates restrain or regulate the flow of liquid & access covers act as a removal plate that covers an opening that may be large enough for a person to pass through, which may be an access point for maintenance or other work.
In addition to Precolor's one piece GRP Water Tanks and bespoke offering, the company also provides sectional water tanks. These are used for the storage of large volumes of cold water and are suitable for both potable and non-potable use. The panels in sectional water tanks are made from GRP, making it a strong and solid structure.
This kind of water storage tank is ideal for use in hotels, schools, hospitals and more, both in the UK and beyond. They can be used to replace a defective water tank without altering the building's structure, or in areas where access is restricted.
Thanks to Precolor's extensive know-how and versatile product range, it can supply to a vast range of customers, both commercial and non-commercial on small and large scale projects.
With the aim to deliver the UK's best quality water and chemical storage tanks, Precolor certainly provides unbeatable services using its industry leading expertise.
If you would like to make use of Precolor's knowledge and experience, don't hesitate to get in touch using the details below. Alternatively, head to the website to find out more about Precolor's range and services, and discover some case studies of the company's recent projects.
T 01630 657281
sales@precolor.co.uk
www.precolortankdivision.co.uk