If you're looking for quality, custom-made joinery, look no further than Bluerun Ltd. As a small, family owned joinery manufacturer, Bluerun boasts an extremely loyal team of experts who manufacture everything to the highest quality. "Our team is very loyal. One of our joiners has worked with our MD since he was an apprentice – over 40 years!" said Dee Newman. "We are all hardworking, dedicated and passionate about every piece of bespoke joinery that we make. Bluerun also still works 'old school', using pencil and paper rather than a computer, which we feel makes our work more personalised."
Bluerun's staircases are widely considered works of art, all of which are designed in-house. On top of this, Bluerun can create bespoke items, from bookcases and window frames to countertops and door sets. Whether you need a one-off item or a production run of doors and windows for a housing development, a new interior for your premises or a bespoke shop front, Bluerun is perfectly placed to deliver exactly what you need.
From its well-equipped 7,000 ft2 factory, Bluerun's team of highly experienced and qualified bench joiner machinists can manufacture all joinery requirements. Instead of producing speculative items for stock, Bluerun only produce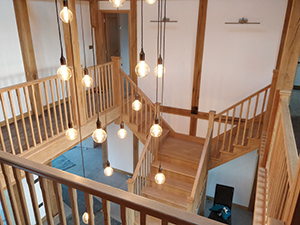 s purpose made joinery to fit clients' drawings and specifications. Quotations for such work are normally provided for free within 24 hours or less, and Bluerun can deliver a quick turnaround for any items required.
Bluerun also boasts an experienced spray operative in charge of a modern spray paint and lacquer facility, meaning articles can leave the factory fully finished and ready for installation. Then, Bluerun's own vehicle fleet delivers goods directly to site, and the company also has a team of site fitters available.
The majority of Bluerun's production is for commercial builders and manufacturing, and it can provide all types of commercial joinery products, whether it's large scale repeat production runs or small scale custom internal and external projects. In the past, Bluerun has manufactured joinery for Multiplex Cinema fitouts throughout the UK, Ellesmere Port, Harlow & Brent Cross shopping centre fitouts, and also fitouts of various Texas Home Care (now Homebase) stores. In addition, Bluerun routinely manufactures bars and reception counters for hospitals, offices and schools, pubs, and restaurants, and has supplied several bespoke shop fronts including for Waitrose and Starbucks.
As well as producing modern styles to suit offices and commercial projects, Bluerun can also produce high quality joinery to meet the specific standards of conservation areas or heritage sites. This includes shopfronts in sensitive conservation areas, and a 10-metre high oak hardwood catapult for Stansted Mountfitchet Castle.
Of course, this year has been challenging for us all, but Bluerun has managed to adjust to a new way of working and continued to run despite the difficulties. "The last year has had its ups and downs. We had a strong start before the pandemic, a quiet period during the initial lockdown phase, then a surge of commercial jobs when the construction industry started work again. We've found that our domestic enquiries have increased this year, and we get regular referrals from previous clients.
"Due to staff being furloughed, the COVID-19 situation has been challenging at times. Staff shortages in the office means our paperwork can take longer to process, and the necessary risk assessments, additional cleaning routines and prevention measures all take time to implement. The staff that remain working all follow the relevant regulations, and in this instance it works in our favour that we are a small team in a large workshop.
"We have all found this new normal quite challenging but we have adapted extremely well. The start of the lockdown was definitely a worrying time for us all, but the whole of the team rallied together and have all done their best to ensure Bluerun remains trading – we want to still be here for our 30th birthday in October 2021."
Indeed, the loyalty and dedication of Bluerun's team is sure to secure the company's future. Bluerun is hoping to further expand its workforce while also looking at more ways to be more cost-effective. "This would then mean we could pass any relevant savings on to our clients within prepared quotations," Dee explained.
With such a wide scope of services and the skills and expertise to support them, Bluerun is the only quality joinery manufacturer you need for your project. If you're interested in finding out more, head to the website or get in touch using the details below. You can also find Bluerun on Facebook, Instagram and LinkedIn, so be sure to pop over say hello.
T 01799 599995
dee@bluerunltd.co.uk
www.facebook.com/bluerunltd
www.instagram.com/bluerun_joinery
www.linkedin.com/company/bluerun-ltd