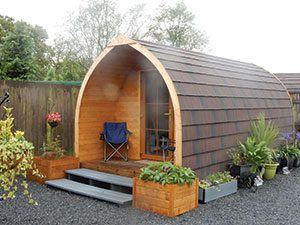 For this issue of Building and Construction Review, we are happy to announce that Universal Glamping has been selected for our Commitment to Excellence award. This is a result of their high quality glamping products.
Originally set up as "The Logpod" in 2007 by Trevor Richardson, Universal Glamping was established by Trevor's son, George Richardson, in 2017. Based on their home farm and campsite in the Brecon Beacons National Park, South Wales, they are industry leading glamping pod designers and manufacturers, providing high quality glamping products that have the best value for money on the market.
Indeed, Universal Glamping provides everything you need to start setting up the perfect glamping site. Their product range also now includes canvas structures and heating solutions, as well as pods, and their design team can help campsites create unique accommodation that will entice every kind of holidaymaker.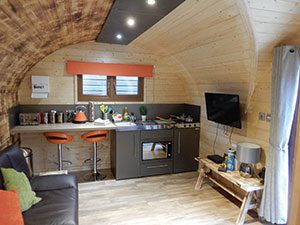 Some of Universal Glamping's main customers include campsites and holiday parks that are looking to explore the glamping craze and offer further accommodation for their guests. They also see interest from couples who are looking at starting their own glampsite as a secondary income and retirement plan. It is without question that Universal Glamping has garnered an outstanding reputation with their customers: "Many of our customers choose to stay with us because we are young, friendly, passionate, enthusiastic, helpful and understanding," says Bradley Richardson. "We are technically brilliant and always provide as much value to our customers as humanly possible. Quality and value is the objective: we are building the best reputation in the business.
"In the past six months, we have created working partnerships in the UK and Europe. A great deal of time has been spent on developing these relationships to ensure growth and success for everyone involved. Recently, we created working partnerships with some of the industry's leading companies, like Carbanon in Europe and Sutton Hospitality Consultants in the UK."
Based on their ethos of constant improvement and development, in September 2018 Universal Glamping had a re-brand which has continued to develop successfully over the past few months. In January 2019, new systems and processes were put into place in order to increase operational efficiency, and they are also now recruiting for new staff, with exciting opportunities for a production manager, assembler, and 3D artist. They are set to grow their UK operations by 100% this year, and are planning another 100% growth year on year until 2022. They are also receiving interest from Europe, especially from France, Belgium, Germany, Spain, and Portugal. In fact, they are currently developing this market with their European partners and are set to start manufacturing operations in central Europe in 2020.
Some of Universal Glamping's main products, their glamping pods, are available in a range of different sizes and specifications. They are a premium range of top quality camping pods which can be delivered to a site fully assembled and ready for occupancy. With a stunning rustic exterior that will fit into any countryside or domestic environment, the inside of the pod boasts warmth, comfort and cosy high quality furnishings to create the perfect home away from home.
Another excellent offering from the outstanding creative design team at Universal Glamping is the GlampLoft, a modular canvas structure which provides year-round accommodation. The GlampLoft is a stand-alone glamping construction that is the first of its kind in numerous ways. One of its innovations is its insulated canvas with nanotech low-voltage radiant heating technology integrated into the surface, which provides efficient and effective direct radiant heat. Furthermore, it is constructed with two stories, a flexible downstairs communal area for cooking, eating, and socialising, and an upstairs loft space which comfortably sleeps up to four adults.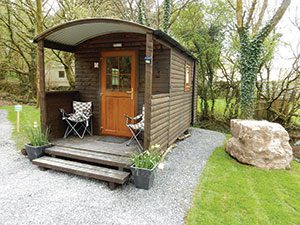 Universal Glamping have also developed another revolutionary product: the GlampRAD. This is an innovative standalone radiant heater panel which has been developed for glamping and park home industries, offering an efficient and cost-effective alternative heating solution. Radiant heating is gaining popularity in the global marketplace, and the GlampRAD has the ability to provide higher levels of comfort, efficiency and health benefits over traditional heating methods.
It has been developed as a primary heating system that can be installed during construction or retro-fitted as an afterthought. Boasting an easy to use mechanism, GlampRAD requires no annual servicing, maintenance or repairs due to having no running parts, and it provides the optimum level of comfort at a low cost. It operates at a surface temperature of 70-80°C, emitting 60% far-infrared radiation with the remaining 40% being convective heat. Infrared is a wave form that permeates outwards from the surface and travels through empty space until it reaches solid mass. This mass then absorbs the radiation, generating heat and becoming a connective heat source itself. With a 36-48V supply, the GlampRAD is extra safe and doesn't require a qualified electrician for installation. It is produced in canvas or stainless steel panels and is available in a variety of colours.
It is evident that Universal Glamping provides unique glamping products of the highest quality, which are sure to be excellent and cost-effective additions to any campsite. For more information, head to their website or use the contact details below.
T +44 (0)1269 853957
sales@universalglamping.com
www.universalglamping.com