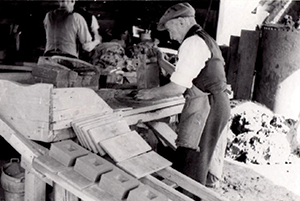 Building & Construction Review are proud to present the Bulmer Brick & Tile Company with our prestigious Lifetime Achievement Award. The company are renowned for being one of the top choices by UK clients for all aspects of brickmaking, and as such we felt they more than deserving of one of our top Awards.
Bulmer Brick & Tile is a small family brickmaking business, operating on a site that has been making bricks since as far back as the Middle Ages. The company has been digging top quality London clay from their seams since the Tudor times, and have since perfected every aspect of the process.
Bulmer works with many different types of clients, and specialise in large scale projects for historical sites such as the National Trust, English Heritage and Historic Royal Palaces. They even supplied the striking brick arches for the award winning refurbishment at St Pancras Station. In addition to these high profile clients, Bulmer also work with individuals and private clients, guaranteeing the same first rate service for all clients.
All of Bulmer's bricks are meticulously handmade using traditional making and drying techniques. The bricks are then placed into a coal fired down draught kiln which takes 3 days to fire. There are many advantages to using a downdraft kiln, with the high fuel efficiency a particular drawing point. Many historic buildings have their own unique brick size and shapes, meaning most facing bricks are made bespoke to the building in question. In addition to fuel efficiency, Bulmer's brick making process ensures the bricks come out with a distinctive finish that will blend with the rest of the building.
Bulmer always keep a stock of their standard sizes, but most historic buildings have a character of their own, which can only be preserved by providing the correct size brick in the right range of colours that will successfully blend with the original. Therefore, the company work closely with builders, architects and surveyors where possible, to ensure that the bricks they produce are right for the building and meet their clients' requirements.
At Bulmer, they manufacture a large number of different products with different varieties. As well as producing purpose made chimney bricks, terracotta for garden use, mullions, jambs, floor bricks, pamments, decorative plaques, garden edgings and many different rubbing blocks, they also manufacture facings and specials of almost any texture. The vast assortment includes coarse veined and smooth, boasting 150 different sizes and over 5,000 different shapes, including plinths, squints and copings.
Bricks can be cut into plinths, squints or more according to client needs from Bulmer's own purpose built brick cutting workshop, where clients can even bring their own bricks for cutting and bonding.
Additionally, the company are able to make and supply many other extensive brick and tile designs. For instance, they are stockists of Singleton Birch Natural Hydraulic Limes and Lime Putty. Their Hydraulic lime is available in NHL2, NHL3.5 and NHL5 strengths, and is supplied in 25kg bags or in bulk tonne bags. Lime putty is also available in 24kg (30l) tubs. Not only that, but Bulmer also stock specially-made fine lime putty for pointing fully fine gauged arch work.
One of Bulmer's specialisms is that they can recreate beautiful Victorian or Tudor chimneys from samples or drawings alone, having also repaired and reproduced chimneys at historic sites such as Hampton Court, Helmingham Hall, Oxborough Hall and St Osyth Priory.
Many of England's historic churches, cottages, dairies, and hallways boasted a beautiful pink hued clay brick floor, made typically from Suffolk Floor Bricks. Unfortunately these are no longer in production.
Thankfully Bulmer are able to use their expert skill to reproduce this unique and stylish flooring. As opposed to the usual imported floor tiles, which are often thin and easily worn, Bulmer's handmade clay flooring is made with a 'double struck' finish for a smooth surface and pink shade.
Offering a range of services, Bulmer are also highly recommended consultants, offering consultancy services on anything brick related. They can also carry out site assessments, brick surveys and write reports to Conservation Officers, English Heritage, Local Councils and other entities.
The company are also committed to providing an outstanding service to their clients; the Bulmer Brick and Tile Company Ltd go to great lengths to ensure that no matter the application, each client is getting the most out of their brick solution. From the preliminary selection through to quotation and commissioning, you are guaranteed a committed, proficient, safe, secure and personal support service.
If you would like to get in touch with the team at Bulmer Brick and Tile Company, contact them on the number listed below. Alternatively, if you'd like to get answers to any of your brick or tile related queries, feel free to email them, or to view an extensive range of their services, visit their website.
Contact
T +44 (0)1787 269232
bbt@bulmerbrickandtile.co.uk
www.bulmerbrickandtile.co.uk