Bluerun Ltd was established in 1991 by John Jones the current Managing Director and his wife Doreen, who remains the company's secretary. Highly regarded as one of the industry's finest high quality, bespoke joinery manufacturers, Bluerun Ltd has an impressive history to which it has remained at the forefront of the industry.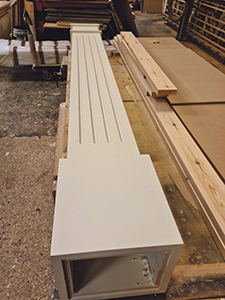 Bluerun Ltd has the capabilities to manufacture most things from timber, hardwood, softwood, panels and sheet material. Some common items Bluerun Ltd manufacture for the domestic market include windows, doors (exterior and interior), bi-folding doors, staircases, bespoke storage units and wardrobes, all of which come with the option of being sprayed in primer or to a finish.
"Everything we manufacture is purpose made for each specific job. Nothing we do is 'off the shelf,' it's all made to measure to meet every client's requirement," stated Dee Newman, Finance Director.
Headquartered in Wimbish, near Saffron Walden, Essex, Bluerun Ltd tends to work with clients within a 20-mile radius. "For our commercial clients, we can usually quote using drawings and then send items by courier. If a joinery item can be manufactured from drawings only, whether it's for commercial or domestic clients, we can send it virtually anywhere in the UK for the client to have it installed," said Dee.

Bluerun Ltd.'s loyal team of experts, boast a traditional 'old school' approach to joinery, whilst still attaining professional, high-quality skills and expertise. "As a specialist joinery manufacturer, we don't use CNC or CAD in our manufacturing. All of our items are designed in-house, unless the client has a detailed drawing. Our 'old school' approach means we still use hand tools to produce all our items, and we also have the capabilities to spray items in-house," mentioned Dee.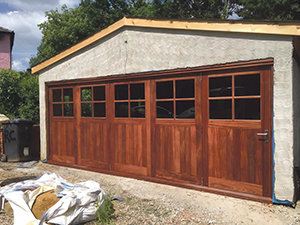 Yes, Bluerun Ltd do use modern techniques including power tools and machines to machine timber, however, all its designs are without the aid of computers. Everything is created within its in-house workshop and crafted by hand to the highest quality. Bluerun Ltd.'s years of success have been passed down through generations, similar to evolution and survival of the fittest, the best techniques have surpassed the test of time. Combining traditional and modern techniques, the overall process has become more efficient for both the client and the company.
The majority of the company's production is for commercial builders and manufacturing, providing all types of commercial joinery products including large scale repeat production runs of windows, frames and doors, to both large- and small-scale customer internal and external projects such as Multiplex Cinema fitouts, Shopping Centre fitouts and various Homebase stores around the UK.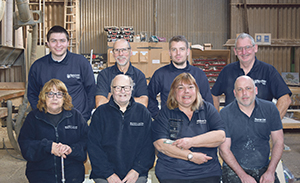 Velfac is the UK's leading brand of composite windows and doors, specified for the system's slim and uniform frames, offering a contemporary style and exceptional thermal performance. Dovista is a group of 14 distinctive brands with strong local roots on the European market for vertical windows and exterior doors. Partnering with both B2B and B2C, Dovista is well-known and highly respected in the industry for providing products of the best quality. Bluerun Ltd is proud to manufacture Velfac and Dovista mainframes and packers for the commercial sector.
"For the domestic sector we have the capabilities to reproduce windows and doors to match existing ones. Whether it's a new build or a period home, we will try our very best to produce replacements windows and doors for these," stated Dee.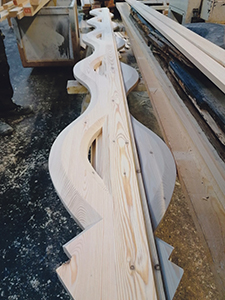 Bluerun Ltd has an extensive portfolio showcasing previous work done for both the commercial and domestic sectors. One notable project was when Bluerun Ltd was approached by a client to reproduce some replacement gates for his listed property. The listed status extended as far as the property gates, so they had to match the existing ones that were beyond repair. Utilising its expertise and experience, Bluerun Ltd suggested using Iroko, a suitable hardwood, which could then be treated with white Bedec barn paint to match the client's requirements. Using black ironmongery to hang the gates, the client was hugely impressed with the final product.
Since joining the office team fulltime in December 2019, Dee mentioned how life has altered since COVID-19, "John Jones (my father) was furloughed with everyone else, but when we re-opened a few weeks later, he remained semi-retired. He turned 80 in August 2021, so is now available for advice without coming into the office. He still calls in every few weeks to make sure we're all ok and doing well."
With firm plans to expand the business and acquire new clients, Bluerun Ltd has seen a surge of interest from domestic clients since COVID-19 and is happy to be busy, connecting with clients again.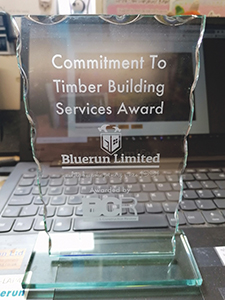 "We still have COVID-19 looming but we are positive and excited for the future. We're a small and friendly team who work well together and take pride in our work. For examples of our previous work customers can check our website portfolio as well as our Facebook and Instagram social media pages," said Dee.
For more information, please see below:
T 01799 599995
dee@bluerunltd.co.uk
www.bluerunltd.co.uk
www.facebook.com/bluerunltd
www.instagram.com/bluerun_joinery