Given the restrictions caused by the COVID pandemic in the last two years or so, children have not been as active as parents would have liked, especially with the added draw of playing on sophisticated electronic games & on other electronic devices.
What kind of outdoor play equipment inspires or encourages children to get outdoors, & is challenging enough to interest them, whilst keeping them safe? Anything which gets children out playing is great, & most, if not all, of the playground equipment found in any UK playground fits the bill to some extent; whether lower, or higher, level.
Rope play equipment provides many different benefits to children of all ages, both in terms of their general health & wellbeing, right through to helping them to develop new skills, & gain experiences through adventurous play. Children learn to take risks safely on larger pieces of equipment, as one example, which might otherwise initially be out of their comfort zone.
Seeing other children doing the same helps them become more assertive in their decision to take that step along the wobbly rope bridge or to climb to the top of that 8m pyramid net. We all learn through practice, trial & error. Tayplay's play structures provide the opportunity to develop these skills, along with building confidence, on our products, which must meet all necessary safety protocols.
Climbing a tall net structure, develops & improves cognitive & motor skills through play. Children also learn team building skills, as they play together, & they also naturally encourage each other to take that extra step. Everyone remembers being egged on during some play scenario which initially looked daunting.
The power of play is immeasurable.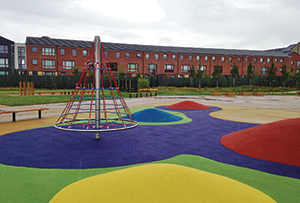 Our rope net Activity Nets, spinning Cone Climbers & other equipment can help feed & inspire children's imagination. Perhaps they are climbing Mount Everest as they ascend one of our pyramids, or maybe they are rescuing a prisoner from their captors, as they scale the walls of Duart Castle, from our innovative new TRAIL range?
We use premium materials which are long lasting, & the rope is of a quality grade, which is more comfortable on children's hands. It is colourful, eye-catching & interesting, or can be naturally themed, when necessary, to blend in with the local environment. Rope based equipment also provides more space to play through the structure, as well as moving up & round the outside, feeding children's desire for exploration & adventure.
Contact us or visit our website at www.tayplay.com.
Our full product range is here, & we have even more exciting products coming in 2022, in addition to our recently launched Tayplay TRAIL range. As modular equipment, it offers yet more challenges, excitement & design flexibility for children through play.