Reworkshop Off Grid & Camping specialise in off grid facilities such as composting toilets and shower units, products for campsites and bespoke carpentry and furniture all built with a large emphasis on sustainability and environmentally friendly materials.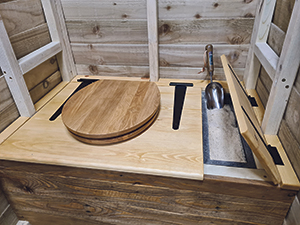 Established in 2018 by Joe Scott, the company is based in Ebbw Vales, South Wales and is known for its high-quality sustainable manufacturing. "Extensive thought goes into how each and every product can be as sustainable and environmentally friendly as possible. Our passion for what we provide keeps us continuously testing and improving our products. Always listening to what our customers require, we also offer a remote delivery and installation service with our off-grid products," stated Joe.
One particular product from Reworkshop Off Grid & Camping is The Portable Composting Outhouse, which is an environmentally friendly, off grid, portable composting toilet solution. The Outhouse is available in three models: The Base Model, The Primo Model and the XL Primo. All three models are what the company consider the most environmentally friendly composting toilet units on the market.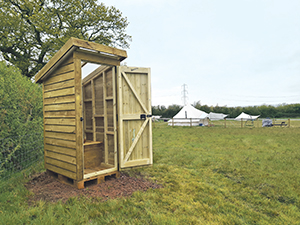 The Base Model was simply designed to be easy to use, portable, strong and environmentally friendly. Its traditional design echoes that of a frontier outhouse and privy, something in which Joe was keen to keep the look and feel of. The walls, roof structure and cladding are pressure treated virgin timbers sourced from sustainable managed forests, and all frames are screwed by hand for strength and accuracy. The roof deck, and toilet compartment cladding are solid recycled pallet wood, and the unit sits on an adapted reclaimed pallet base.
The Primo Model is an upgraded version and comes with a sunroof and other features. The sunroof is made up of the only recycled tri wall polycarbonate sheeting in the UK which provides great strength and light omitting properties. The compartment lid of the toilet is Primo is solid pine sanded to a fine finish, alongside a recycled plastic urine separator paired with a solid oak conventional toilet seat. The separator sits on its specifically designed recycled plastic slider, which allows adjustment and is coupled to a simple outlet pipe which is detachable for cleaning. As the only company to provide a soakaway vent, both models are an industry first.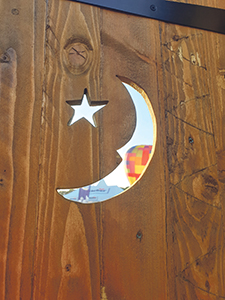 The Primo XL bears all the features of the Primo but is larger in width allowing room for a handwash basin and built-in sawdust box, instead of the pallet base the XL gets a redesigned solid wood base, which still allows for easy transportation. Other products include showers, washrooms, and disability facilities, camping and campsite products, reclaimed furniture, gifts and homeware.
Recently, the company has taken on a second workshop to keep up with customer demand. Joe explained the effects of COVID-19, "With the rise in staycations, we've seen an increase in orders, but material shortages and delivery delays have made life very difficult. We've witnessed extreme price rises in materials which has been hard to deal with especially as we have tried to keep our prices low, but we feel we have now struck a balance and aim to come out the other side stronger than ever."
In the future, the company intend to increase its range over the winter period adding new products ready for purchase come Spring 2022. In closing Joe mentioned, "We've built our business and our reputation on being an easy to work with family company. We love working with our customers to achieve their vision no matter how crazy or off the grid it is."
For more information, see below:
T 07714 719441
reworkshopwales@gmail.com
www.reworkshopwales.co.uk