Building and Construction Review is proud to feature JCB Lighting for our Commitment to Excellence Award, for the recent launch of its innovative range of Work Lights which are helping to revolutionise tasks in a wide range of applications.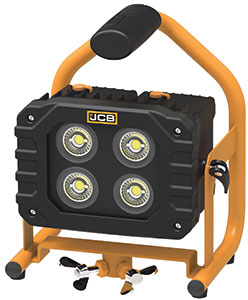 These lights offer a ground-breaking lighting solution for everyday tasks and specialist operations, using the latest advancements in LED and Lithium-Ion technology. Offering a comprehensive range of portable and rechargeable lighting, JCB Work Lights are highly mobile and very easy to transport and store, helping to overcome the major trip hazard caused by trailing cables on-site and in working environments. The lights also provide a solution for off-grid and remote working, which can be difficult when a power source is not easily accessible.
"The range of work lights is supplied with one or two rechargeable batteries to allow for loop-charging," explained Lindsay Newham, Marketing Manager. "You can easily get a day's work out of the product, with the ability to get 12–14 hours of light from a single charge on some of the range. These are great for a range of applications, such as construction, industrial, inspection, events, maintenance, security, hire and rental. They're ideal for roadside assistance – the lights can be fitted onto a tripod to allow for a stable light source in the event of a vehicle breakdown."
Indeed, as well as these exceptional levels of versatility and portability, the work lights feature a highly robust and rugged design, as well as IP65 rating to ensure resistance to adverse weather conditions, dust ingress and water jets, providing a solution for multiple applications. The range offers dimmable lighting with options for 100% and 50% brightness, and it is complemented by a selection of accessories, including the previously mentioned tripod, as well as additional batteries, chargers and cables. What's more, all products come with a three-year warranty, for extra peace of mind.
The LED Rechargeable Floodlights are available in 20W and 40W versions, offering up to 4000lm light output. They come with either one 22.2V battery or two 7.4V batteries, to deliver a runtime of up to seven hours from a three to four hour charge time per battery. What's more, the Floodlights offer a powerful magnetic base for ultimate stability and flexibility when working, as well as having a hook design handle for adaptability. In addition, JCB offers LED Rechargeable Power Lights, available in 10W, 20W and 40W versions, offering up to 4000lm light output. With either two 22.2V batteries or two 7.4V batteries, the Power Lights offer a runtime of up to 14 hours from a three to four hour charge time. They also feature a discharging battery indicator with indicator lights that turn off one by one during discharge, to ensure the user can easily see how much power they have left. The lights also have a quick release for the adjustable head and an adjustable tripod fixed wing screw.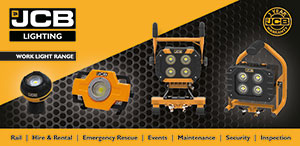 The third version of JCB's range is the LED Rechargeable Industrial Task Lights. These are available in 30W and 50W versions offering up to 4000lm light output. These Industrial Task Lights are available with either an 11.1V or 14.8V fixed battery, delivering a runtime of up to eight hours from a four to six hour charge time. The product is also supplied with a sturdy mounting bracket and has a 100% or 50% mode for brightness.
Finally, JCB offers the unique LED Rechargeable Task Lights, which are available as a 5W version offering 600lm light output. The product is supplied with a fixed 3.7V battery to deliver a runtime of up to three and a half hours. This convenient task light has a magnetic base for flexibility when working and offers 100%, 50% and SOS Flash lighting functions. The Task Light also has a USB output suitable for charging mobiles phone when you are away from a power source.
Certainly, JCB Work Lights are offering an excellent solution for workers in a variety of industries. Thanks to its LED technology and Lithium-Ion batteries, these lights help to save energy and offer an eco-friendly option to help ease your everyday tasks, inspections or emergency situations.
If you would like to find out more information on the full range of benefits of JCB Work Lights, don't hesitate to get in touch using the contact details below.
Contact
T 01246 432325
sales@jcb-lighting.com