Displaying a wealth of industry experience throughout its 21 years in fruition, Arrow Valves Ltd first started specialising in the supply of Reduced Pressure Zone (RPZ) anti-pollution valves to protect the drinking water supply from backflow and assist compliance with the Water Regulations. Establishing itself as the RPZ Valve Specialist, the company has expanded upon its services and now provides a comprehensive range of water regulation solutions which have been specifically designed to assist public health engineers comply with the water regulations.
Arrow Valves manufacture and distribute an impressive range of innovative water associated products and provide bespoke assemblies for customers requiring a particular application.
Arrow Valves is an expert in designing products that specifically conform to the requirements of the latest Water Regulations, assisting a variety of clients including contractors, architects and engineers to ensure they provide clean and safe water.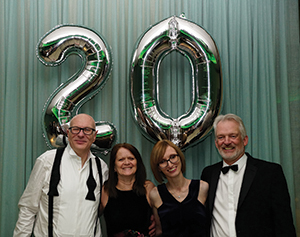 Determined to demonstrate a responsible and passionate approach to water safety, Arrow Valves prides itself on producing the best possible customer service and ensures that all of its team is equipped with the knowledge and expertise to provide accurate advice on specific applications. To this end, the company makes sure that all of its team are BPEC qualified in Water Regulations.
We spoke to the Directors of Arrow Valves, who told us that, "Externally what sets us apart from the crowd is our passion for our purpose of keeping people safe through the prevention of pollution and provision of clean water. We always do what we say and never oversell. We believe in education – a prerequisite for our team is BPEC Water Regulations qualification. We are continually learning and sharing our knowledge with consultants and contractors.
The Directors continued, "Internally what sets us apart is our culture. Team wellbeing comes first, with profits being shared in the form of international team trips including families. Our premises are not mainstream manufacturing. Board meetings are held in our ball pool. The walls adorned with photographs from previous team trips and motivational anecdotes such as our 'Wall of Appreciation' where we post favourite things about fellow team."
With a continuous approach of investing in quality customer service alongside the development and enhancement of its team, Arrow Valves has maintained a growing dominating presence producing innovative water regulation safety products and also provides educational services including seminars to increase client's knowledge and understanding of water safety regulations. "Arrow Valves offer free Continuing Professional Development (CPD) seminars. Our IPHE accredited Water Regulations and CIBSE approved Heating Systems seminars are presented on rotation at our in-house Arrow Academy or on the road at client premises. Both have been adapted for virtual presentation to keep all involved safe during this time." Arrow Valves Directors.
In terms of recent years for the company, Arrow Valves has gone from strength to strength gaining successful sales each year. "Arrow Valves has experienced a period of exceptional sales success, but as many businesses the pandemic has caused a pattern of slower sales due to the closure of building sites for a period and general unrest in the industry. We have continued to work and support one another during the challenge and were pleased to be able to quickly turnaround orders to supply products for the Nightingale Hospitals."
Indeed, with the on-going global pandemic of COVID-19 affecting all businesses and industries, Arrow Valves has also seen the effects on its industry however the company strives to maintain a productive outlook and is continuing to develop its products and services during these uncertain times. "The pandemic persists as does industry unrest, but Arrow Valves continues to look to the future, developing products to assist compliance with the Water Regulations. Our Research and Development team keep well-informed of technological advances and incorporate these into design to facilitate product automation, remote monitoring and multiple site management. "The Directors continued, "We are expanding after sales support with our dedicated servicing department; attending site to maximise product longevity, especially in premises which may have closed for long periods due to lockdown."
In terms of the company's future plans, Arrow Valves told us that the company has many things lined up for the future, stating that, "To mark 20 years in business we have recently undergone a rebrand with a new look and logo. We are in the process of launching a new website with enhanced content such as educational videos, BIM drawings and technical literature to aid product selection and specification."
Contact
T 0144 282 3123
www.arrowvalves.co.uk