Building and Construction Review are extremely pleased to announce that Thompsons of Prudhoe have been awarded the Commitment to Excellence profile for its outstanding services to the Demolition Industry.

Established in January 1948 by William and Margaret as a husband and wife partnership, Thompsons of Prudhoe offer services in the construction industry, including demolition and dismantling, asbestos removal, site clearance and reclamation, earthworks, concrete, quarries, aggregates and agricultural lime.
Thompsons of Prudhoe have locations in Northumberland, Durham, Cumbria, Tyne & Wear and Yorkshire and are working on many other sites in the North of England and Scotland. The company are proud to say they are a one-stop shop and will assist and see clients through the whole process. The 70-year-old family run business now successfully comprises Thompsons of Prudhoe Ltd, W & M Thompson (Quarries) Ltd, and Tyneside Minimix (concrete) Ltd, which are all wholly-owned subsidiaries of Thompsons of Prudhoe Holding Ltd.
W & M Thompson (Quarries) Ltd produces aggregates and agriculture lime for suppliers across the North of England, Scotland and Northern Europe. Tyneside Minimix (Concrete) Ltd supplies ready-mixed concrete within the Tyne & Wear area.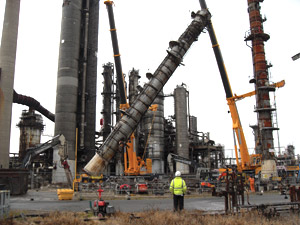 One of the company's highly sought-after services is their Asbestos Removal. The team at Thompsons of Prudhoe are highly skilled to remove asbestos and receive regular training and updates on the latest industry developments. Not only this, but they have experience in removing asbestos from different structures such as insulated flooring and roofing, pipework, fixtures and many other materials. They hold a full asbestos removal licence that was issued by the Health and Safety Executive, this gives clients reassurance that the company can complete the procedure to the highest standard.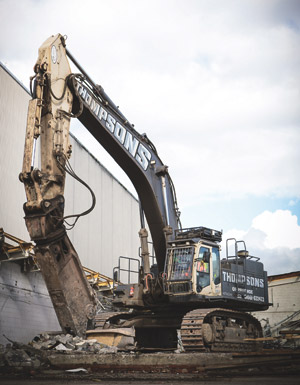 Customer service is at the heart of the company which is why they offer their services UK wide for small and large companies, clubs, local authorities and on-site major industrial companies. Not only does Thompsons of Prudhoe focus on giving a great service, but they focus on fulfilling all services with safety always the primary consideration. The culture of safety is deeply practiced within Thompsons of Prudhoe, which is what makes them one of the most favoured in the North East of England.
The company uses its own plant and equipment, spending around 4 million pounds each year on the renewal of their specialist equipment which not only makes them advanced but also reliable for all of their clients. They are accredited with Achilles Building Confidence, FPAL & UVDB, OHSAS18001, ISO9001, 14001 and 50001, Acclaim, CHAS, Constructionline Gold, FORS, SAFE contractor, ARCA and NFDC Membership and many others.
Thompsons of Prudhoe are always working to improve the company itself and give back to the community, which is why they proudly take on apprentices. The apprenticeship lasts 3 years, where dedicated individuals will learn the craft of Thompsons of Prudhoe and study at college to apply knowledge to real-life situations. The company spend around £120,000 a year on training which is available to all employees, new and existing, so previous experience is not essential which gives individuals a fair start in the working world.
The company's plans for the future are to grow organically with the word of mouth recommendations from previous clients as well as targeting new clients as well as increasing their success rate for new tenders with existing clients.
For further information or general enquiries, please visit the Thompsons of Prudhoe website. Alternatively, you can contact the company via telephone or email.
T +44 (0)1661 832422
info@thompsonsofprudhoe.com
www.thompsonsofprudhoe.com