Trees have been used for thousands of years in construction and over time there has been an increase and growth in the potential for building with wood from companies and clients alike. Contemporary construction from timber of large scales such as tall buildings has evidently given a natural inclination that building with wood is good for the environment.
Established in 1990, Timbabuild Structures Ltd is a small family run business originally set up under the name P Harvey Carpentry by Paul Harvey, Managing director. Paul has worked his way through the ranks covering a vast array of tasks and roles which has enabled him to gain a wealth of knowledge in the industry. In March 2020, the company changed its name and Timbabuild Structures Ltd was born.
Based in Truro, Cornwall, Timbabuild Structures Ltd covers clientele nationally on a regular basis. We caught up with Paul, who gave us further insight into what Timbabuild Structures Ltd provides. He stated that, "At Timbabuild Structures Ltd, we design, manufacture and install all things timber related. From a full size, turnkey project house, to a garden seat. We cover a wide range of fields and our expertise extend to building projects such as garden rooms, timber frame builds, offices and many more."
As carpentry and construction specialists, Timbabuild Structures Ltd is able to offer an array of services to its clients. These include the construction of timber frames, decking, pools, bars, gazebos, roofs and holiday lodges.
Timbabuild Structures Ltd can offer four different grades of timber frame depending on the client's budget and the architectural and structural design. These include a bare basic, basic plus, medium range and a top range design. Timbabuild Structures Ltd also provides its clients with the option to choose the requirements from certain services offered. For example, a timber framed home service, the client can pick which element of the service they want help, such as advice, design, supply only, supply and install or full turnkey projects.
If you're looking for decking, Timbabuild Structures Ltd can design and construct special curved decking to fit any area and can take as little as one week to complete from start to finish. The company also has the craftsmanship to successfully install pools into garden spaces, construct the decking around it and install a DIY solar heater within.
As we enter the Great British Summer, Timbabuild Structures Ltd has had multiple success in integrating bars into client's gardens. As Timbabuild Structures Ltd has the ability to deck the garden, install electrics and a BBQ, include optics, lighting and a fridge; clients can feel assured that their project is completely taken care of, with everything they specifically asked for.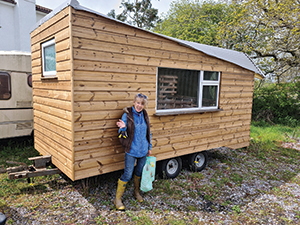 With over 30 years' experience in the industry, Timbabuild Structures Ltd is made up of a handful of excellent tradesmen. Its services operate with a fully transparent contract where the client has access to everything from quotes to invoices. The client is allowed to visit at any time to see their project come to life in the workshop.
One main service Timbabuild Structures Ltd pride itself in is the ability to offer a range of bespoke and predesigned lodges constructed to new home specification. With its standard cavity walling system, new build FSC quality timbers and the best quality insulation, Timbabuild Structures Ltd can achieve better SAP ratings than the strictest values required for a new build property. This results in a vast reduction of running costs for the recipient and improves energy efficiency. This is enabled by the use of the double glazed, argon gas filled windows and doors with an envelope completely insulted and wrapped by VCL. In addition to the construction and supply of timber wood, Timbabuild Structures Ltd also now offers UPVC windows at a greatly reduced price, complete with a 10-year warranty.
The uncertainty of COVID-19 has left Timbabuild Structures Ltd busier than ever. There has been a stark increase in homeworkers over the past 12 months and Timbabuild Structures Ltd's workload has dramatically increased due to the amount of people who have started to spend more money on their properties.
Alongside the UK Construction Industry, Timbabuild Structures Ltd is helping to tackle deforestation by increasingly sourcing sustainable timber and timber products. All Timbabuild Structures Ltd's workmanship carries a 12-year warranty, is FSC (Forestry Standard Commission marking) certified and is from sustainable resources ensuring the best of quality. This remarkable production line mirrors the company tagline, "Where quality is all that matters most".
Looking forward, Paul states, "It's been great, more people are spending money on their properties, and we have never been so busy. We endeavour to keep pleasing our customers, keep providing great products and great customer service. In the future we are looking to come away from general house builds and concentrate more on garden rooms, offices and structures alongside bespoke high-end furniture."
If you're interested in Timbabuild Structures Ltd's services, please see below.
T 07812 148792
info@timbabuildstructures.co.uk
www.timbabuildstructures.co.uk