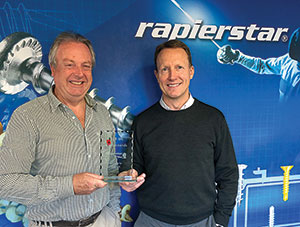 Building and Construction Review is proud to announce that Rapierstar has received our BCR Recommends Award, for its outstanding range of market leading fasteners and fixings.
Established in 1992 by David Furness, Rapierstar is based in Macclesfield, Cheshire, supplying specialist screws and fixings to the UK and Ireland fenestration industry. This covers around 70% of window and door manufacturing, installation and refurbishment, with clients ranging from small independent companies to large multinational distributors and manufacturers. Committed to maintaining only the highest standards, Rapierstar specifies and sources from well-respected ISO accredited manufacturers, in order to distribute high quality and competitively priced products.
"Rapierstar is the only specialist fastener supplier in the UK window and door industry, with over one billion items held in stock in our 100,000 ft2 warehouse," explained David Furness, Managing Director. "This keeps window and door suppliers on stream with the fasteners they need across their different products types, with coated carbon steel, martensitic stainless steel and the high performing austenitic stainless steel fasteners all available to meet every application.
"Products are designed and manufactured to exacting quality standards. In addition to manufacturers' commitment to excellence, Rapierstar also invests in a comprehensive in-house UK test centre with specialist fixings available next day for customers."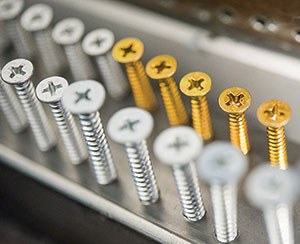 Without a doubt, Rapierstar is synonymous with experience and quality, offering outstanding services underpinned by an industry-leading technical support team which boasts a collective experience in the fastener market of over 150 years.
Some of Rapierstar's specialist branded fixings include STARPVCU high corrosion resistant carbon and stainless steel window screws, which are specified on numerous leading fenestration systems, and STARALU self-tapping stainless steel fixings for aluminium systems. The company's high quality product range also features STARFIX plug-free masonry fixings, STARTURN universal timber screws, STARDECK specially developed exterior decking screws and STARPIN and STARNAIL stainless steel polymer headed pins and nails.
Currently, Rapierstar is developing its 100,000 ft2 warehouse in Cheshire further in order to incorporate a teaching and seminar centre, proof of its dedication to adding true value to the industry. Indeed, since its inception, the company has strived to establish and maintain a position of leadership in the supply of fixings and building products throughout the UK and Ireland, a feat which Rapierstar is in no doubt achieving, and will continue to achieve in the coming years.
If you would like to find out more information on the company's full range of products and services, head to the website or get in touch using the contact details below.
T +44 (0)1260 223311
info@rapierstar.com
www.rapierstar.com