Rafferty Roof Trusses are proud to be world-class designers and manufacturers of roof trusses, joists, tiles and accessories including: Samca, Redland and Lagan.
All of their products are made to the highest-quality, with the best materials currently on offer within the industry.
The company's famous Roof Trusses can be made to order from exact client specification, whether it is for commercial or home use. The company aim to competitively price their products to enhance cost-effectiveness, but at the same time create robust quality products lasting clients for decades to come.
Rafferty take into account all of their client's requirements and exact specifications, regarding the client's property shape, the client's utilisation of roof space and any safety concerns the client may have.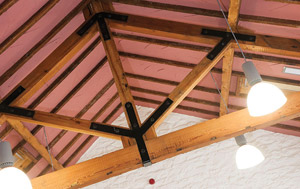 It is important to note that the company's range of web joists are perfect for either home or commercial use, and the ideal solution for heat retention. If a client is looking to fix a floor, deck or ceiling, the company's 72mm wide flanges provide a large surface area that is compatible with a variety of solid joist sizes.
The company's extensive joist system can also be made to measure, dependent on the clients own specifications and property demand.
Moreover, the company's additional roofing accessories include: roof timbers, lead, roof lights, felt underlays, PVC fascias, soffits, ventilation and much more. All additional roofing materials are manufactured by a range of industry manufacturers, including Swish, Keylite and Velux. Rafferty also supply a range of tiles from suppliers such as Redland and Quinn Rooftiles.
If you would like any more information on Rafferty Roof Trussers, call them on the number listed below. Alternatively, if you would like to view an extensive range of their products and services, feel free to visit their website.
T +44 (0)2870 869060/+44 (0)3455 216145
info@raffertyrooftrusses.co.uk
www.raffertyrooftrusses.co.uk