With the summer holiday fast approaching, what better way is there to enjoy the weather and host family and friends than serving up a mouth-wateringly fresh homemade pizza baked in the comfort of your very own garden? Multi award-winning business Pizza Oven Supplies can help you in the design, development and supply of your very own outdoor pizza oven.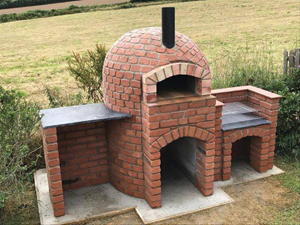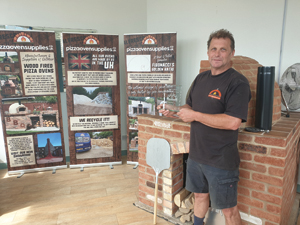 Established by Nick and Sam Riley after the couple had spent several years living on the Greek island of Rhodes in the nineties, Pizza Oven Supplies brings people together through its passion for great food. The idea for the company came about after Nick noticed the frequency with which pizza ovens were used throughout Rhodes. The idea is not a new one, but is tried, tested and works. Ovens that burn wood and store heat have existed for almost as long as society has, with the Italians and Ancient Greeks being predominantly responsible for the development of the now standard design.
Upon returning to the UK, newly inspired Nick realised his dream after seeing the use of pizza ovens increase among celebrity chefs. With a keen eye for a good idea, Nick searched Google and Pinterest in an attempt to find companies producing quality pizza ovens. The results he found were convoluted and contradictory with costs fluctuating without consistency.
In his hometown of Stoke-on-Trent, Staffordshire, Nick began exploring well-known pot banks such as Spode and Wedgewood and enquired as to where their kilns were being supplied from. Being situated in such an appropriate location, Nick found that the knowledge and materials needed to bring his idea into fruition were right under his nose.
Over the next six years Nick saw his pizza oven idea evolve from a simple interest into a successful business. As the business grew so did the number of enquiries it received and Nick's wife Sam subsequently joined the team to aid Nick in tackling the ever increasing work load, a logical step after having spent years observing Nick's emphatic pizza oven passion.
The pair reinvested almost every penny that the business made back into the business and soon saw trade exceed anticipations. Nick told us "We followed a simple formula. Our raw materials are recycled from the pottery industry. These are high quality refractory materials that ware (cups, saucers and plates) sit on. A lot are single use and are then discarded. Although the cost of sorting and recycling is still quite high, we still end up with better quality raw materials, not to mention savings on storage."
Nick continues "We then grew the business organically, from our garage home, to a small unit then onto a showroom and manufacturing base. Every year we improved a little in each department. The most important was the moulds we used to cast our ovens. We went from plywood and fibreglass to plasma cut steel. Our ovens got better year on year. We must have got things right from the start though, as 2019 has seen six previous customers come back and purchase a pizza oven in their new property. Jeff the owner of Potbank hotel in Stoke who was our second ever customer, commissioned a fantastic bottle oven to be built on the former Spode factory that the hotel had been converted from."
A company with a story as compelling Pizza Oven Supplies seldom falls short of excellence, and Pizza Oven Supplies is no exception.
The care with which the company manufactures its ovens is demonstrative of the passion that drives the business forward. Pizza Oven Supplies is the product of a love affair with pizza ovens, and the ways in which they can bring families and friends together. When you purchase a pizza oven from Pizza Oven Supplies you're not simply purchasing an oven, you're investing in great memories.
For those new to the world of pizza ovens, Nick recommends the Naples 600 Pizza Oven. Despite being a starter oven the Naples 600 has the capacity to cook pizza after pizza. The two section pizza oven has a 600mm wide cooking area that facilitates the largest of pizzas. With the oven capable of reaching heats well over 500°C pizzas can be cooked in minutes.
At the top of the company's range is the Roma 900. The oven's large capacity renders it perfect for sizable commercial projects or big gardens. Sitting on a 1,700mm x 1,700mm footprint the oven is three foot wide with a more than substantial cooking area. Multiple dishes can be cooked simultaneously such as large roasts and vegetables. The Roma 900 is perfect for Christmas dinners and Sunday roasts. For more information on Pizza Oven Supplies or to receive advice on the most suitable oven for you, see the details listed below.
Contact
T 0178 221 2777
www.pizzaovensupplies.co.uk