Goland Recruitment Ltd was established on the 3rd of April 2012, followed by Goland Group Ltd on the 24th of January 2017 by John McGuigan.
"I used to work for a Northern Ireland company called Patton Group Ltd for 30 years and relocated my family to England in 1988, where I headed up and looked after the UK office, based in Milton Keynes. Patton's worked for several high-profile retail companies such as Selfridges Wonder Room, Arcadia Top Man – Top shop, Signet H Samuels- Ernest Jones, John Lewis among others. Unfortunately, Patton's went in to liquidation in 2012 after 100 years of trading." John continued, "It was following this, that I set up Goland to carry on the kind of work I was accustomed to and since then, we have developed our working relationships with many sub-contractors and suppliers so we are in a very good place to carry out all sorts of fit-out and refurbishment type projects. We have the experience, knowledge and expertise to be able to carry out high-end fit out and refurbishments wherever required throughout the UK."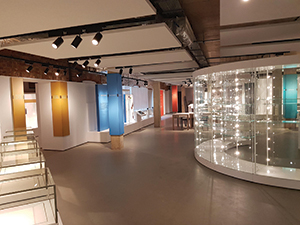 With over 30 years' worth of experience within the construction industry Goland Group provides both the construction and recruitment industry with key services to support principle contractors, contractors and clients. "Goland Recruitment provides a variety of trades and labour for the construction and manufacturing industry, while Goland Group specialises in fit-out and refurbishment projects within the Retail, Museum and Heritage Sector. Goland Recruitment not only supplies general labour and trade operatives in the construction and manufacturing industry, we also provide supervision and management personnel. We are also very capable to take on complete projects from start to finish for construction clients." Explained John.
Set up to fulfil all of its clients, temporary and permanent construction labour needs, Goland Recruitment provides highly qualified, health and safety inducted personnel who excel in their field of expertise, while providing the highest standard of workmanship. Goland Recruitment strives to ensure that all of its operatives are equipped with a suitable CSCS card, recognised qualifications and are health and safety compliant; Goland Recruitment's team is extremely experienced and equipped with advanced knowledge working within their specialist fields.
Goland Group offers a wide range of construction services for supply and fit, including all aspects of, metal frame walling and ceilings and drylining; decorations; labour only bricklaying, carpentry and joinery; site strip outs and builders clean.
"We can supply labour only if that is all they require or we can take on the complete package including Project Managing on their behalf." John explained further.
Covering the UK and Ireland, Goland Group work in collaboration with a wide variety of different sized companies within the construction and manufacturing industry and prides itself on ensuring that no job is ever too small and no challenge too complex. John explained, "We work in collaboration with a number of other construction and manufacturing companies, so no job is too small – we will give 100% no matter what the challenge is."
A very complimentary service Goland Group also provides and is well worth noting, is advice and guidance for all aspects of health and safety, from concept to completion of a project. Services such as, but not limited to include, CDM-A; health and safety plans; method statements and risk assessments; project day filing and site set-up systems; site inspections and audits; accident investigations; and bespoke documentation.
Within recent years, Goland Group has expanded significantly which has been echoed in its procurement of a larger office and warehouse facility based in Milton Keynes. Providing a larger space and prime location, Goland Group has obtained a far more superior location making them even more accessible.
With the on-going effects of the Coronavirus (Covid-19) pandemic, many industries and businesses have felt the pressure of change in terms or workloads, staffing and new regulations. We asked John how this has affected the company, he told us that "COVID-19 has had an impact on many of our installations but we have managed to stay afloat, treading water waiting for what will clearly be a new normal. Fortunately, through innovative management assisted by the variety of government initiatives and schemes, we have been very fortunate in that we have not had to make any staff redundancies."
In terms of the company's future plans, John stated that, "We are looking at introducing the manufacturing of high-end bespoke fit-out fixtures and fittings."
For any further information, please see the details below:
T 01908 102078
www.goland.group