GLW Engineering was first established in 1992 as Joe Bloggs Engineering by Geoff White and his business partner. After they parted ways, Geoff and his wife continued running the business, which became known as GLW Engineering in 1997. Currently based in March, East Anglia, the company prides itself on being a construction industry specialist, celebrating over 25 years of business and extensive engineering experience and expertise.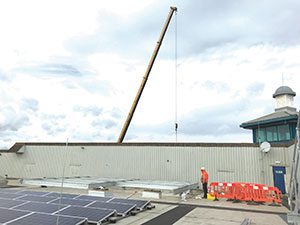 Operating in an extensive range of areas, GLW Engineering can provide staircases, handrails, platform, structural steelwork, shot blasting, sand blasting, soda blasting, and most recently powder coating. They are able to powder coat aluminium, mild steel, galvanised steel, and stainless steel. What's more, GLW Engineering can consult with their clients regarding bespoke requirements, creating one off solutions which are tailored to a customer's needs. These clients can include single self-builders as well as larger companies and contractors.
Indeed, GLW Engineering has experts in all areas of their business, and use 3D CAD design facilities. Where they truly shine, however, is in custom build objects in mild steel, aluminium, and stainless steel, all of which are built to the highest standard.
One of the company's most highly sought after services is shot blasting, which prepares steel work for a protective coating to be applied. By removing surface contaminants, it creates a surface profile for increased coating adhesion.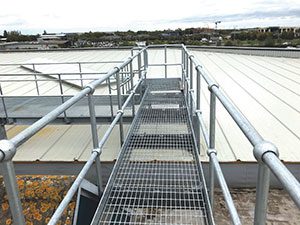 Their soda blasting technology is suitable for cleaning timber, wood, oak beams, oak floors, doors, stairs and banisters, cars, boat hulls, masonry, food processing equipment, and structural steel. It will efficiently remove and clean multi-layered surfaces right down to the base, eliminating the need of toxic chemicals, scraping, sanding, or abrasive blasting. Soda blasting is safe to use on metal, fibreglass, glass, chrome, rubber, and trim, and can degrease and remove paint without damaging or distorting metal.
We had the pleasure of speaking to Geoff White, Managing Director, about what makes GLW Engineering stand out from the competition. "We are a family-run business, offering quality as well as quantity. We are always proud of what we do and have a passion to continue doing it well into the future. Our main goal is to maintain our high quality services and to strive for longevity.
"A key advantage of GLW Engineering is the fact that we don't specialise in one thing, meaning we are always busy. We can offer engineering excellence in a large range of areas while consistently focusing on quality and a passion for what we do. In our eyes, the customer always has to come first, and so our service is second to none."
Certainly, it seems that the only way is up for GLW Engineering. After moving to new workshops six years ago to accommodate their growing trade, the company is now running out of space and looking to expand again due to an ever-increasing customer base. If you would like to find
out more information on their full range of services, head to their website
or use the contact details below.
T +44 (0)1945 464637
info@glwengineering.co.uk
www.glwengineering.co.uk