For this issue of Building and Construction Review, we are happy to announce that Net-Zero Building Supplies Ltd has been selected for our Commitment to Excellence award.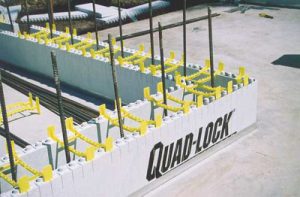 Based in Standish, Wigan, Net-Zero Building Supplies Ltd is the main UK distributor of Quad-Lock insulated concrete forms (ICF) building systems. Quad-Lock has copious benefits for both the constructor of the building and its eventual occupants, and Net-Zero Building Supplies Ltd is leading the way in providing energy-efficient building methods throughout the construction industry.
Quad-Lock has experience supplying their system in the UK for over 20 years, and was established as Net-Zero Building Supplies Ltd in January 2019 in order to provide a more extensive range of products for energy-efficient construction. They can now offer all the structural components for the building envelope, and to complement this, their sister company Net-Zero Homes Ltd can assist in an array of extra services. They can help with design, building, drawings and shell construction including foundations and ICF walls and roofs, offering a quick and certified construction technique for developers. The range now includes a low value flush UPVC window system.
We asked Stephen Campbell to tell us a bit more about the company: "The market for this is rapidly expanding due to the value that insulated concrete form structures can bring to self-build and developer led construction projects. The product is marketed directly in the UK to cope with the increased activity, and we now have the opportunity to include insulation products using flame retardant grade EPS, supplying passive standard slab designs, as well as a new and innovative warm roof design using I-foam hybrid warm roofing panels. All of our stock is held in the UK, meaning we can also provide prompt delivery times."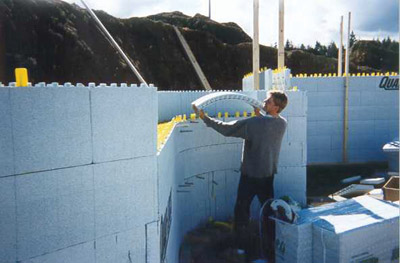 Quad-Lock ICF structures have an extensive range of benefits for architects, engineers, contractors and home owners. For architects, its increased versatility and design flexibility means it can be shaped to accommodate all of the design elements of modern buildings, forming wide openings, arches, corners, any angles and curves with almost any radius without extra hassle. Its panel systems allow architects and engineers to design and work to any dimension, and to build in lintel or column reinforcements. Quad-Lock is also more resistant to natural disasters, rot, mould and pests, and is up to eight times stronger than houses built from traditional methods, with solid reinforced concrete being nearly impenetrable.
For contractors, Quad-Lock provides the opportunity for increased business, due to the high satisfaction of the owners of buildings made with the ICF structures, meaning the customers usually refer the product and builder to other parties. Contractors can also enjoy reduced labour costs, as experienced installers can erect 3 sq. meters per man-hour, depending on the project. A single crew can install a complete wall, eliminating the need for multiple subcontractors to complete framing, furring, sheathing and insulation.
There is also a fast learning curve for unskilled labour, meaning they can use in-house crews and reduce crew size. Furthermore, there is no capital investment in forming products, meaning there is no additional cleaning, maintenance, storage or transport costs.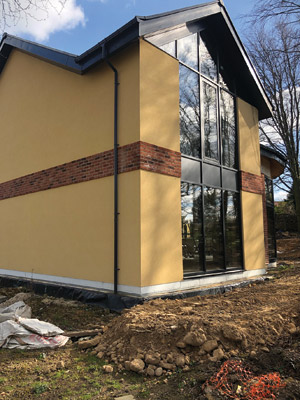 Net-Zero Building Supplies Ltd also provide a service and support programme, which offers everything a contractor needs to sell, estimate and install their building solutions. They provide tailored product support including an installation video, training seminars, technical literature, and personal technical support, as well as offering sales support.
In addition to proving highly beneficial for the design and construction processes, Quad-Lock also offers extensive advantages for the home owner. Whilst costing the same as homes built using traditional methods, home owners can save 70% or more on their energy costs, with superior insulation boasting U-values of 0.28, 0.21, 0.15 and lower. The ICF structures offer no air infiltration, less dust and pollen, and no potential for mould or rot, and they possess Sound Transmission Class (STC) ratings of 50+, meaning a home made with Quad-Lock is much quieter to live in as opposed to those made with other manufacturing methods. Furthermore, Quad-Lock boasts exceptional structural integrity, ensuring the finished property can withstand hurricanes, tornado winds, and associated flying debris. It possesses reduced maintenance and operation costs due to its outstanding resistance to time's wear and tear, and is fire rated for up to four hours, tested to EU standards.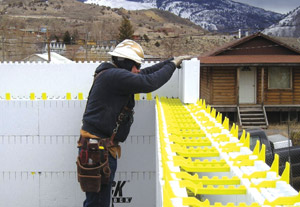 Complimenting our range of products, we now offer a high performance, UPVC window range. These units have double rebated sash providing extreme weather protection. They can be triple glazed to achieve 0.9 U values and zero % air leakage. They are available in a variety of external colours.
Quad-Lock ICF structures boast an abundance of advantages, making it possibly the most beneficial of any construction system. All of Net-Zero Building Supplies Ltd's work is undertaken by experienced ICF trained contractors, and can be covered by insurance backed warranties. If you would like to find out more information, you can contact Stephen Campbell using the details below.
M +44 (0)7771 311311
netzerobs@gmail.com