More than a third risk prosecution by not holding accurate Health & Safety compliance records
67% of construction companies admit they would fail or 'might scrape through' an 'on the spot' HSE site inspection
36% say they inaccurately log health and safety compliance matters with 1 in 5 still manually recording data
20% say the administrative costs to store and maintain H&S records is too large and complicated
Nearly a third are not yet meeting the ISO 45001 Occupational Health & Safety standard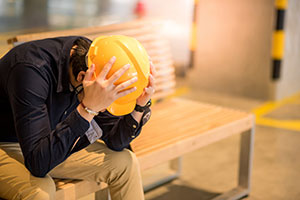 21st October 2019: UK construction companies are putting the future of their organisation and the safety of their staff at risk, after a new study has found that 67% of 2,000 construction firms admit that they would fail a formal 'on the spot' Health & Safety Executive (HSE) site inspection – or they 'might scrape through' – because of internal failings in recording and maintaining accurate, up-to-date health and safety compliance data.
The Health & Safety at Work etc Act 1974 requires every construction company to keep an accurate, up-to-date record of all health and safety matters from personnel training and qualifications to equipment maintenance, to site safety and incident reports; all to be made immediately available to the HSE upon inspection.
But the new study 'Reducing Risk In Construction' by Safetybank- the first fully digitalised health and safety management platform of its kind – found that over a third (36%) of the 2,000 construction companies polled admit to inaccurately recording health and safety compliance matters, with 17% still recording and filing health and safety data by hand.
The research panel was an equal split of SMEs (250 or less workers) and Corporates (over 250 workers). A quarter of the Health and Safety Directors, Site Managers and MDs surveyed say they have poor access to and limited visibility of compliance records including staff training, medical certificates, equipment testing, accident reports and site inspections, with 20% saying that the administrative cost to store and maintain such records is too large and complicated to manage effectively.
Over 1 in 3 (38%) lack access to internal reports reminding staff what compliance documents and certificates are due for renewal or have expired, and 36% say the business lacks a single centralised system to store and manage personnel training and equipment testing records.
Lack of workplace safety standards
Worryingly, nearly a third (30%) of all construction companies surveyed are not yet meeting ISO 45001 – the world's first ISO standard for management systems of occupational health and safety (OH&S), introduced in March 2018 to drastically improve levels of workplace safety. 17% are unsure what the new standard is, or if the company is compliant.
Safetybank's study follows recent HSE figures showing that construction, and agriculture, forestry and fishing sectors continue to account for the largest share of fatal injuries to workers (30 and 32 deaths respectively in 2018/19). A series of recent major health and safety breaches by construction firms, fined upwards of five figure sums, also highlights the importance of maintaining watertight data compliance processes.
Michelle Di Gioia, Partner in the Dispute Resolution team at Gardner Leader solicitors and a Tier 1 ranked (Legal 500) health & safety legal specialist for the construction sector, comments on Safetybank's study: "It's vitally important for companies to keep up-to-date records of employees' training, personal protective equipment, records of inspection and maintenance of equipment. Do not just pay lip service to retaining these documents; risk assessments and all health and safety policies and procedures should also be well documented, regularly reviewed and updated with health & safety procedures communicated, understood and recorded. Without thorough records an organisation will not be able to show that it has ensured (in so far as is reasonably practicable) the safety, health and welfare of its employees and visitors to the premises.
"Health and safety fines are increasing and the HSE charges for its time in identifying and investigating breaches. With easily accessible, well maintained data management systems companies can quickly provide valuable evidence in the event of an incident,  cutting down this investigation time, and most importantly be confident that they're always compliant," continues Michelle.
Lucien Wynn, COO at Olive Communications, the parent company of Safetybank and cloud telephony and unified communications specialist, adds "Ensuring that all health and safety compliance records are accurately stored and kept up to date can be a logistical nightmare for Health and Safety Directors. They often have multiple site projects on the go, using various subcontractors who can have 100s of workers, and the construction organisation is accountable for the safety of each and every one.
"We often hear how H&S Directors rely on the word of the Site Manager or employee that compliance records are accurate and up to date, rather than being able to check for themselves due to an archaic and inaccurate data management system that isn't centralised or easily accessible. But this is putting the H&S Director at risk of being held accountable for a breach as well as threatening the safety of workers, and the financial security and reputation of the business.
"Poor access and visibility of health and safety data that isn't being accurately and reliably recorded is therefore having severe cost implications on construction companies. The HSE charges per hour per person during an audit, and until they receive and check all the necessary paperwork. Our research found that over a third of construction companies are calling for ways to digitalise and centralise their health and safety processes so documents can be quickly and securely created, shared and downloaded for an audit report.
"At Safetybank we have been working with construction firms such as Higgins Construction and Swan Housing for over five years, unifying their safety processes within one secure, easy-to-use, centralised platform, where records can be easily updated and shared, tasks and comments added in real time, and reminders sent on vital compliance processes, all via desktop and mobile – a virtual filing cabinet for a safer workplace."