NTS UK are the exclusive UK manufacturer and distributor (available for hire and sale) of the full range of LITE guard aluminium trench shield support systems.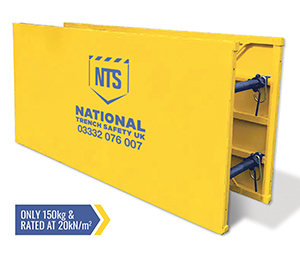 The LITE Guard range of aluminium trench boxes gives the contractor the strength and versatility of a steel trench box but only one third of the weight.
The distinct weight advantage benefits are:
Allows the contractor to work in restricted areas using a smaller excavator.
Smaller excavators mean fewer weekly costs and transport charges
Smaller excavators less fuel
Smaller excavator less CO2 emissions
Smaller electric powered excavators/no fuel/no emissions.
Call one of our team to discuss which aluminium box shoring is suitable for your project.
All of our aluminium range is available for hire or sale.
For more information, please see below:
T 03332 076007
enquiry@ntsafety.com
www.ntsafety.co.uk/box-shoring/lite-guard