Established in Melbourne, Australia in 1947, DEKS created the first and original rubber roof flashing, known across the world as the Dektite. In 2003, DEKS was established in the UK, focusing on creating, manufacturing and distributing leading brands within the roofing, heating and plumbing industries. "We strive to provide high quality and user-friendly solutions, backed up by excellent customer service," said Ollie Janes, Managing Director for UK and Europe.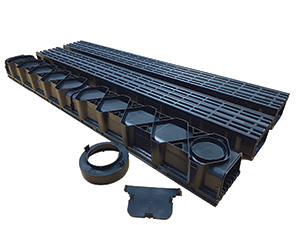 DEKS is based just outside of Bristol, with further locations in Chicago and Melbourne and the holding company, Skellerup Holdings, based in New Zealand. The company's extensive product range covers three main areas: roofing, including Dektites and lead replacement materials; drainage, including channel drainage, rubber couplings, and decorative channel drainage; and chimneys, including twin wall flues and gas vent flues. These products are used in a broad range of industry sectors, with DEKS' main customers working within construction, renovation, and the new build market.
Significant benefits can be found across DEKS' three main product areas, thanks to the high standards it adheres to in each of its products. Indeed, DEKS' Dektite is the market leading range of roof flashings, which has been around for over 70 years. In addition to the renowned Dektite range, DEKS also offers Fast Flash self-adhesive flashing, offering a secure alternative to traditional lead flashing. Due to health and safety concerns, risk of theft and need for specialist knowledge and tools, lead is falling out of favour with many roofing contractors. DEKS' Fast Flash lead-free flashing is significantly lighter than its lead equivalent, making it easier to handle and cheaper to transport. No specialist tools are needed, as it can be cut with just a pair of household scissors, and it can be moulded into shape with your fingers.
Fast Flash lead-free flashing is ideal for any application requiring a quick and secure flashing solution, it can be installed on roofs with a slope of minimum 5° and on almost all roof materials. Fast Flash is environmentally friendly and easy to install thanks to its self-adhesive properties, as well as being highly flexible and workable. What's more, if painting is required or where water is likely to travel from copper or bitumen onto Fast Flash, you can use 100% acrylic low sheen exterior paint.
Another of DEKS' lead-free alternatives is Rapid Flash. This is comprised of the company's industry leading rubber flashing cones mounted to the Rapid Flash base which incorporates a cleverly designed mesh encased in a non-toxic rubber polymer with a butyl adhesive backing. This solution is favoured by roofing contractors around the world, thanks to its suitability for all roof profiles, unique stretchable base, minimal tooling requirements, market-leading sealing system and UV rating.
DEKS also offers highly cost-effective channel drainage, as well as a unique range of decorative channel drainage, including DekDrain Deco and DekDrain Threshold. The Deco is a surface channel drainage for domestic foot traffic or light vehicle use, featuring decorative heel guard grating covers which are available in floral and wave designs, as well as a slotted grate option in a range of colours. Each length is 1.8 metres and includes a joining clip to easily connect each length together. This makes a fantastic decorative addition to a garden or driveway drainage in addition to effectively draining away surface water. The Deco range includes 45° and 90° Elbow plus 90° Tees to change the direction of the channel drainage without the need to make cuts on site. Each section is 1.8 metres long, minimising the number of connections needed as well as reducing installation time.
Threshold offers a unique threshold drain to brighten up a doorstep, as well as keeping water drained away. DEKS offers a choice of three styles, wavy, floral or slotted, in a range of colours. Each length comes with an open end cap to allow connection to below ground drainage pipes, a closed end cap to keep soil or concrete from entering the channel, and one grate of the customer's choice. Each length comes pre-assembled and ready to be installed, and both the Deco and Threshold drains are tested to EN 1433 as well as meeting A15 standard when installed according to installation instructions.
Boasting an extensive history of offering the highest quality products, DEKS has undergone significant changes over the last two years, with a particular focus on providing a market leading customer offering with regards to service as well as a range of innovative products. "Moving forward, we are looking to leverage the extensive experience of the wider Skellerup Group," Ollie concluded.
If you would like to find out more information on everything DEKS has to offer, head to the website or get in touch using the contact details below.
T 01275 858866
sales@deks.co.uk
www.deks.co.uk