Established in 2002, Waterscapes Limited is based in Wincanton, Somerset and has become one of the UK's leading specialists in the field of water features and irrigation for corporate, private and municipal projects throughout the country and in Ireland. With its design, installation and maintenance expertise, the company undertakes projects within business parks, commercial developments including roof gardens, private homes and sporting venues. Waterscapes works closely with all sectors of the industry from developers to landscape architects and contractors, facilities managers, specialist irrigation product suppliers and the end client.
"Our role is to plan and execute the design, installation schedule and servicing programme for any new or existing water feature or irrigation system in order to meet the timeline and quality requirements of all parties. We ensure that each project pays due attention to the vital areas of water & energy conservation, health & safety and other requirements that govern a particular job," says Managing Director Paul Jeffery.
Waterscapes has a highly experienced in-house HQ team of designers and administration staff who support the company's mainly remote team of field engineers based around the country. There is a predominance in the south and within easy reach of the home counties and London where many of the company's current and past projects have been centred. New installations and maintenance work can therefore be carried out with minimum delay. During all stages of a project from appointment right through the design and installation process, close liaison with all parties is critical to ensure execution to Waterscapes' exacting standards.
Carrying all relevant insurances and major accreditations, such as that of SafeContractor for a uniformly high standard of health and safety across its business, Waterscapes is also accredited with gold membership of Constructionline, NICEIC approved contractor status and is a registered holder of Builders' Profile & SMAS Worksafe accreditations.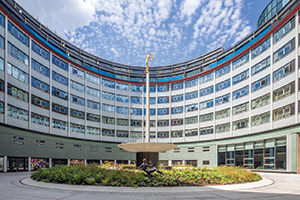 High profile projects undertaken by Waterscapes include the old BBC TV Centre redevelopment, Broadwalk Kew Gardens, Canary Wharf Crossrail, Fenchurch Street – Sky Garden, East India Docks, Tottenham Hotspur FC, Tidemill Square, Greenwich and many more.
Many of these successful projects have seen Waterscapes receive excellent endorsements from other professionals involved. At the TV Centre, Landscape Contractor Gavin Jones praised Waterscapes for, " Attention to detail, professionalism and the use of the highest quality irrigation products." At the Sky Garden, Willerby Landscapes acknowledged Waterscapes' levels of service: " I can call on Waterscapes at any time if required to attend any issues and their response is excellent."
Waterscapes was originally established through the identification of a gap in the market for a specialist company in water features and irrigation. Whilst landscape architects and their clients could visualise an end result, there was a need for an organisation to pull together and execute all the practical intricate engineering requirements and logistics that would ensure on time project delivery to realise the expectations of all parties.
This innovative approach has been core to Waterscapes' services over the last 19 years. Along the route the company has continued to seek out new opportunities through awareness of market trends, an understanding of emerging irrigation technologies, environmental considerations and the impact of socio-economic conditions.
For example, the company has long recognised the importance of rainwater harvesting whilst more recently the concept of Smart Watering has been the focus – a key topic for everyone when it comes to achieving higher levels of water conservation. Soil sensors, which have developed in leaps and bounds over recent years, are placed in the ground to detect levels of moisture. Employing remote access via 3G & 4G networks, and Wi-Fi, water is only employed for irrigation as necessary, making it an environmentally friendly, cost-effective and more convenient way of working.
The pandemic brought new challenges for Waterscapes and the company took the opportunity to reassess its business. This included implementing the necessary measures to ensure the safety of employees and clients during both installation and service contract work. Positively, over the past 18 months, business has grown by just under 15%. There has also been an increased demand for the company's services from larger estates, country residences and private houses as owners now consider spending more time at home and investing in their landscapes – opening up more opportunities for the company.
With business continuing to grow, Waterscapes has positive and exciting plans for the future. In summer 2021, an all-new website will be introduced which will act as a shop window to highlight to potential and existing customers all the services now available from this forward-thinking company. As demand for services increases, there will be further expansion of the engineering team, especially within the dedicated maintenance division.
"Waterscapes' success to date has been based upon paying close attention to the market, providing the highest levels of quality and service in everything we do," says Paul. "We will sustain this approach and believe there is an exciting future not just for Waterscapes, but for the industry as a whole, as we face up to new opportunities and challenges."
For more information on Waterscapes:
T 01963 824166
www.waterscapeslimited.com