In this issue of Building and Construction Review, we are pleased to announce that we have selected Timbabuild Structures as the recipient of our Commitment To Excellence Award.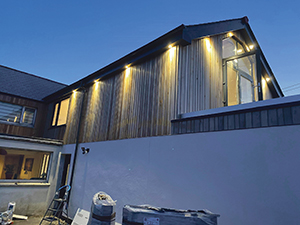 Timbabuild Structures offer, a full spectrum of timber frame construction from design brief to completion. Whether it be the design of a one-off shelf, or a multiple unit site, Timbabuild Structures can offer the complete package.
"We design, manufacture and install all things timber related. From a full-size turnkey house project to a garden seat, we cover a wide range of fields such as timber frames, decking, pools, bars, gazebos, roofs, and holiday lodges," said Paul Harvey, Managing Director.
Originally set up in 1990 as P Harvey Carpentry, the company changed its name in 2020 to Timbabuild Structures and is a UK specialist in carpentry and construction. Based in Truro, Cornwall, its services spread across all of the UK.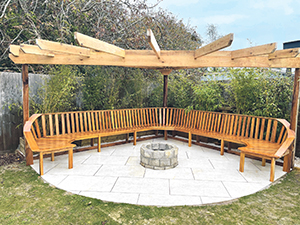 The company has completed many successful projects working across a range of sectors including education, house renovations, commercial, private and public spaces. Some recent completed projects include a commercial build for Waitrose in Swindon where cedar cladding was built into the structure of the building, and a commercial project at Tiverton school where a 1800sqm roof was built flat to pitch conversion and used over 25,000 screws and fixings which took five weeks to complete.
From bespoke holiday lodges to completed natural slate roofs, each project requires meticulous detail with the upmost quality customer service. Each timber frame is custom built to the clients request and built to suit any budget. Timbabuild Structures have over 30 years' experience in the design and manufacturing of timber frame and erection of timber frame houses along with many other forms of build.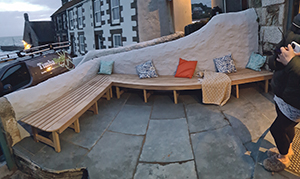 "Our service is what sets up apart from the competition. We operate a fully transparent contract, where the client has access to everything, from quotes to invoices, they can visit us at any time to see their project come to life in our workshop," stated Paul.
Each property goes through a 'Dry Fit' process at the company workshop to ensure that when it finally arrives on site, any tweaks that are needed are eliminated by Timbabuild Structures. This guarantees the customer is provided with a 'Right First Time' approach. Its workshop consists of a traditional production process and is based in Newham. It operates with an open-door policy by where the customer can pre arrange an appointment and watch their ideal dream build come to life. The client has full control and can implement any changes at any stage throughout the process.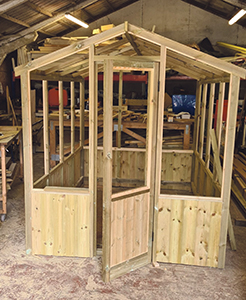 For timber framed homes Timbabuild Structures offer advice, design, supply only, supply and install, and full turnkey projects. The client can choose out of four different grades of timber frame, specific to budget, architectural and structural design. Firstly, to name a few features included in each timber grade, the Bare Basic Design consists of 140mm timbers, single sole plate, and standard vapour control barriers. Secondly, the Basic Plus delivers vertical 25mm battens to external, 100mm internal studding, and 15mm OSB 3 structural panel. Thirdly, the Medium Range has a double sole and head plates, a proctor reflective vapour shield 0.81 control layers, 18mm OSB 3 structural board and VCL to bathrooms. Lastly, the Top Range has 190mm studding, 25mm service void, 100mm internal studs, double sole plates, fully insulated, 9mm OSB 3 structural impact walls and a fully insulated closed panel.
Where quality is all that matters most, Timbabuild Structures is a small family run business made up of a handful of professionally trained and experienced tradesmen. Boasting five-star reviews from happy customers such as, 'this is a great, friendly, local business. Fantastic craftsmanship and affordable prices!' its years of experience and reliable expertise in the industry allows the company to retain a consistent high-quality level of service. "We aim to keep pleasing our customers, keep providing great customer service and great products," said Paul.
Not only is Timbabuild Structures experts in all thing's timber frames, but it also has many strings to its bow and has more recently redirected its efforts to other areas of building work. "We are looking to come away from the general house builds, and concentrate more on garden rooms, offices and structures, along with bespoke, high-end furniture," stated Paul.
Timbabuild Structures will endeavour to continue building upon its sterling reputation and is appreciating the increase in business from homeowner's post COVID-19. "It's been great for us business wise, more people are spending money on their properties, we have never been so busy," said Paul.
Indeed post COVID-19 has laid the foundations of a new norm, and for the construction industry a combination of increasing interest and sustainable requirements has forced companies to think outside the box and deliver innovation on every level. Timbabuild Structures is a remarkable company offering an abundance of beneficial services to a wide number of sectors. Its team of skilled labourers and design experts have certainly laid firm foundations for a long and successful future.
For more information, see below:
T 07812 148792
info@timbabuildstructures.co.uk
www.timbabuildstructures.co.uk