The idea of "Something Special" is at the heart of Urban Blossom.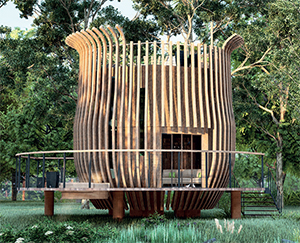 Give your guests an experience like no other in an Urban Blossom eco design. Created with the luxury hospitality sector in mind, these highly desirable architectural pods are sure to create a buzz while maximising your revenues.
Inspired by nature, our signature designs – The Bud, The Poppy and The Seed – work beautifully within every landscape. Large open windows, viewing platforms and decking areas connect with the surrounding environment and give a sense of escape from the urban and the everyday. Our interiors offer the comfort of high-end design and can be customised to your needs by adding a sauna, a wet room, a yoga studio or even a home office.
We manufacture off site for fast installation, can work off grid and, with no need for traditional foundations, our buildings can be sited on uneven terrain and amongst trees. We are carbon positive, use low-impact, sustainable materials and design and manufacture within the UK. We can even help support planning processes.
Contact
M 07973 672889
www.urbanblossom.co.uk