Building and Construction Review is proud to announce that 1st Folding Sliding Doors has been chosen to receive our Commitment to Excellence award, for its dedication to pushing the boundaries of architectural glazing.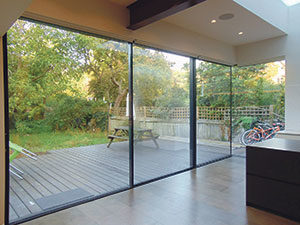 Established in 2004 and based in west London, the company offers bespoke glazing solutions, including sliding doors, bi-folding doors, glass roof structures, windows, and frameless glass balustrades. These are perfect for both residential and commercial applications, helping to transform an environment and enhance the relationship between the inside and the outside of a building. Indeed, 1st Folding Sliding Doors offers unparalleled advice to ensure that the correct products are chosen to maximise the bespoke design its customers are hoping to achieve.
Manufacturing and designing innovative glazing systems, 1st Folding Sliding Doors works closely with established manufacturers, offering both UK and offshore designed systems with lead times as short as one week. The company boasts over 15 years' experience in overcoming the technical difficulties involved in the design, manufacture and installation of bespoke products, and is dedicated to working through any technical issues a builder, architect or project manager may have.
This expert technical support is in addition to the company's team of fully trained in-house installers and expert support services for its trade customers, which combine to ensure that 1st Folding Sliding Doors offers the best overall package available in the market today.
"I think one of our key advantages is that we always try and think outside of the box," explained Darren Johnson, Web & Social Media Manager. "We often do things that others might not; because we're a smaller company, we have the flexibility and freedom to do this. Our manufacturing processes can be highly versatile, producing made-to-order products, and we work very closely with our customers. We offer a free site visit to ensure that everyone is on the same page and part of the conversation; this guarantees that we will create the right solution for every customer."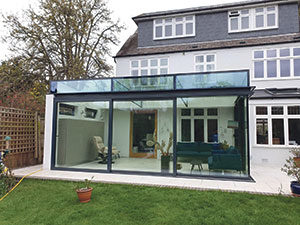 Indeed, 1st Folding Sliding Doors is an excellent choice for architects and property developers looking to add a unique and sophisticated touch to home renovation projects. "We want people to ask questions and enquire about what we do; we love a challenge, and want to help our customers achieve their vision."
The sheer quality of 1st Folding Sliding Doors' products and services is proven in its membership of the Glass & Glazing Federation (GGF), FENSER and it is using their 10-year insurance backed guarantee to better serve its customers and their project teams. As a subsidiary of GGF, GGFi is a leading provider of Insurance Backed Guarantees on behalf of the home improvements industry, and it has built a stellar reputation over the last 15 years. Without a doubt, GGFi offers homeowners guaranteed protection and peace of mind in their investment, so they can focus on creating their architectural vision.
What's more, 1st Folding Sliding Doors is part of the FENSA scheme, which allows companies that install replacement windows and doors to self-certify compliance under government building regulations, without the need for a separate assessment from Building Control. This is yet another reason why working with 1st Folding Sliding Doors will ensure an efficient and pain-free experience throughout the life of a project.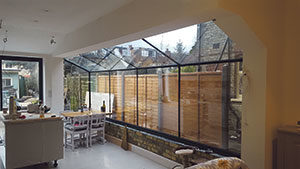 "Some recent products have been our brand new pivot door for external usage," said Darren. "Not many companies are offering external pivot doors as they can cause difficulties with keeping water out, however ours are weatherproof. We've also released a range of crittall-style doors made from aluminium, rather than steel, but with the same heritage look. Our design department is currently working a number of new and exciting products, including a piston operated manual skylight, which avoids the need for electrical operation," Darren said.
1st Folding Sliding Doors attends a number of trade shows each year, attracting increasing levels of interest every time. The company regularly attends the Grand Designs Live show in Birmingham, and the Ideal Home show at Olympia, London.
If you would like to find out more information on 1st Folding Sliding Doors' full range of products and expert services, head to the website. Here, you can also see some stunning images of the company's past and current projects, to help inspire your next architectural project.
Alternatively, don't hesitate to get in touch using the contact details below to discuss your needs.
Contact
T 0208 997 2448
www.1stfoldingslidingdoors.co.uk