Building and Construction Review is proud to announce that Wonderwall has been chosen to receive our Outdoor Building Company of the Year award, for its outstanding range of innovative garden products which are helping to breathe life into places and spaces across the country.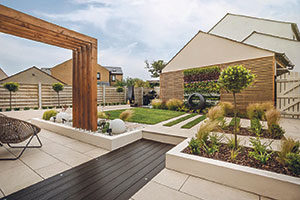 Established in 2016 by Rick McKeever, Wonderwall produces high quality and unique decorative garden products. Through Rick's expert leadership, Wonderwall has developed a stellar reputation within the industry, and is well-known for its picturesque and show-stopping vertical planters.
With a team that is always thinking outside of the box, creativity is woven into Wonderwall's company culture, with a keen focus on designing and developing products which will transform environments inside and out. The team at Wonderwall is comprised of passionate and knowledgeable gardeners, combining their wealth of experience to produce some of the UK's most stunning features and living wall designs.
This expertise is underpinned by an outstanding
commitment to customer service, offering help and advice throughout their working relationship to ensure each customer is getting the most out of Wonderwall's products. "We are extremely competitive, and we pride ourselves on providing reasonable prices without sacrificing quality. We also look after our customers throughout the whole process; we offer on-site visits and provide our clients with consultancy and services across the whole journey."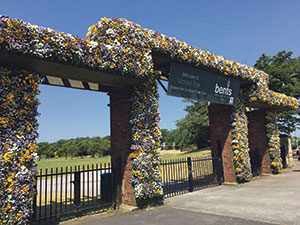 With Wonderwall's vertical planters, the only limit is your imagination. Providing an excellent opportunity to create diverse and bespoke garden designs, they are perfect for balconies, interiors, window boxes and fences, as well as for producing living wall designs for a stunning internal or external feature. The planters can add interest and beauty to otherwise mundane features, enhancing surfaces and spaces in an intriguing way. Most significantly, Wonderwall's planters can self-water, reducing the time spent maintaining the planters' health and increasing their aesthetic quality.
Thanks to Wonderwall, customers can help to reduce their carbon footprint by creating a living breathing wall without the need for bricks. The living wall is also recyclable, energy saving and cost effective. "We are always searching for new innovative solutions and products and we are passionate about providing ways to help companies to lower their carbon footprint," Rick explained. "A living wall offers a wide range of health benefits, so it's not just aesthetically pleasing, but great for everybody's wellbeing."
Indeed, living walls have become renowned for their economic and ecological benefits. An internal wall can help improve air quality by taking in carbon dioxide and releasing oxygen, lessening airborne particles and absorbing fumes including cleaning products and cooking smells. It can also cut energy costs by regulating the room temperature, boost morale and reduce absenteeism, and increase energy levels to keep staff more awake and alert. Moreover, it decreases the need for humidifiers and dehumidifiers, and acts as a soundproofing barrier to reduce noise and help people to focus.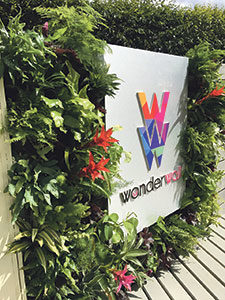 Externally, the living wall is a modern addition to the design and architecture of the building, increasing property value and offsetting the carbon footprint. It also insulates the wall during winter and cools the building in the summer months, as well as cleaning outside air pollutants and dust and creating a fantastic habitat for birds and insects, increasing biodiversity. What's more, the wall can facilitate the growth of fruit and vegetables in urban settings.
"It's been a great 12 months, and everything is moving in the right direction," said Rick. "We've been working on bigger commercial builds, with a focus on increasing sustainability and reducing the carbon footprint and working with universities to research new technology. We're developing methods to improve water retention and biodiversity, ensuring everything is sustainable and offering new ways to move the company forwards. We're working on a freestanding system at the moment, with irrigation and UV lights in the system to offer an enclosed, plug-in vertical planter option.
"We're also pleased to announce that we are looking for regional franchisees in 2020, to look after target markets. If you're interested, please contact us for more details," Rick concluded.
Undoubtedly, the benefits of Wonderwall's innovative products speak for themselves, and the company's future releases are highly anticipated across the industry. If you would like to find out more information on how to install a living wall on your premises, and stay up to date with Wonderwall's latest developments, head to the website or get in touch using the contact details below.
Contact
M 07834 372468
rick@wonderwall-it.co.uk
www.wonderwall.direct