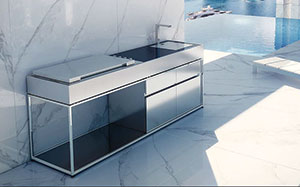 Outdoor cooking is growing in popularity, and for good reason. There are few things that compliment a late summer afternoon as generously as that fragrant smoky aroma of a barbeque. However, don't for a second believe that alfresco cooking has to be limited to the warmer months, a hot meal is just as welcome on a cold winter evening as a grilled burger is on a sunny Saturday in July.
Having an outdoor kitchen gives you the opportunity to indulge in preparing and cooking delicious food in a fun and unique setting all year round.
Cooking outdoors is an ideal way of entertaining guests, with the kitchen itself being as much of a conversation piece as it is a tool. Patio heaters, furnishings and lights can all be added to the kitchen to produce an outdoor living area perfect for parties and social gatherings. By cooking outdoors you also keep any unwanted smells out of the home, not to mention enhancing the taste of your food.
When grilling meet, fat drips off the protein creating a not only tastier outcome, but a healthier one too. Aside from grilling, outdoor kitchens offer cooking equipment such as teppanyaki plates and wood fired ovens, plus so much more.
Helping you achieve the outdoor kitchen of your dreams, is Kitchen in the Garden, a leading seller of the best brands of BBQs and outdoor cooking equipment with a product range broader than any competing company. The Surrey based company, incorporates all outdoor cooking technology to offer you a kitchen that works for you.
The company offers a free design service, wherein bespoke solutions can be found that compliment you, your lifestyle and your garden. Kitchen in the Garden has moved on from the American style outdoor kitchens popular in the 90s, and now offers European designs, greater in both aesthetic and material quality.
Kitchen in the Garden is unique in not only the breadth of its product range, but the attentive approach it adopts towards its customers. The company listens to you, and works with you to achieve an outcome that you won't be disappointed with. For more information on Kitchen in the Garden see the details listed below.
Contact
T 01932 862473
www.kitcheninthegarden.co.uk