For this issue of Building and Construction Review, we are happy to announce that Lendon Containers has been selected for our Commitment to Excellence award. This is due to their ability to sell and transform shipping containers.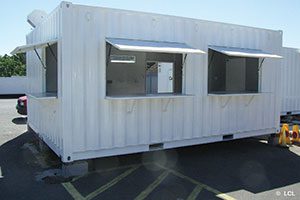 Based in the Clapham Common area of London, Lendon Containers was founded over 20 years ago by the company's namesake Lendon Meaby.
Lendon Containers sell and rent marine shipping containers, though in reality what they offer is limited only by your imagination. The sturdy containers are available either for hire or for purchase, and are very competitively priced; containers can be rented from as little as £9 a week, plus VAT. Containers available for rent are either 20ft or 40ft x 8ft x 8ft 6ins or 20ft ISO containers. Hiring a 20ft container offers nearly 14 square metres – 32 cubic metres – of space.
You might be thinking: why would I want to rent a shipping container? Well, the question should perhaps be why not? Shipping containers are an extremely cost-effective and flexible storage solution on their own (unlike a storage warehouse, they are transportable).
It is no wonder Lendon Containers have built a repertoire of satisfied customers spanning a diverse range of sectors, including: The Army, Local Authorities, Leisure Facilities, Construction, Parks and Garden Centres, Hospitals, Static Storage Centres, Schools, and Utility Companies.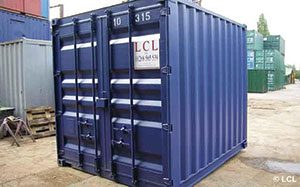 The company's containers are not solely hired or purchased for their storage capacity, however, with a great many of their clients converting their containers for all manner of purposes. You truly are limited only by your imagination when converting marine shipping containers for alternative uses, the possibilities are endless. Just some of the uses of containers purchased from Lendon Containers are: generator units, laboratories, clubhouses, secure site offices, chemical stores, pop-up bars and food stalls, to name but a few.
What's more, the experienced team at Lendon Containers can help the customer with the entire conversion process; from the design of the container right the way through to fitting it out and transporting it to your location, the team can be with you every step of the way – there is no project too big, nor too small. There are many examples of previous conversions available to the customer, with sample materials and styles available, too!
So whether you're looking for a cost-effective, simple and mobile storage solution either for rent or purchase, or for a unique conversion for almost any purpose, Lendon Containers is your best option. Using Lendon Containers' for storage truly is a fraction of the cost of other popular solutions; with discounts available for long-term storage rental this could be as little as £7 a week!
T +44 (0)207 350 1940
info@lendoncontainers.co.uk
www.lendoncontainers.co.uk