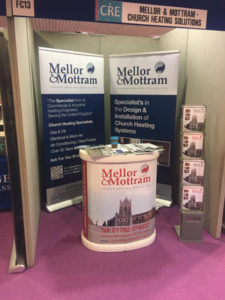 At Building and Construction Review, we like to recognise companies which are striving to offer the best customer experience possi ble, offering leading expertise and quality service in everything it does. Therefore, we are proud to announce that Mellor and Mottram has been chosen to receive our Commitment to Excellence award, for its unrivalled capabilities in offering high quality heating equipment for both commercial and industrial customers across the UK.
Mellor and Mottram is a leading specialist in industrial and commercial heating, carrying out heating installations including air source heat pumps and ground source heat pumps, as well as fitting air conditioning systems to offices and factories.
Established in 1972 by Roger Mottram, the current Managing Director's father, Mellor and Mottram has many years of experience in the industry, and can install suspended warm air units, radiant tubes and cabinet heaters, and can help with any heating requirement, whether it is gas fired or oil.
Based in Stoke-on-Trent, Mellor and Mottram has a wealth of knowledge of the various sectors in which it works, offering quality workmanship on every project. "We work with all kinds of buildings," explained Stuart Mottram, Managing Director. "We've worked on castles, offices, schools, factories, and particularly specialise in church heating installations. Anything to do with plumbing, we can help."
Indeed, numerous educational establishments have benefitted from Mellor and Mottram's extensive industry experience. For example, Leighton Academy in Crew, Cheshire, had five old boilers replaced with two more efficient Remeha boilers, while Hathersage Primary School in Derbyshire had their outdated boiler replaced with an efficient Quinta Pro boiler, also from Remeha. What's more, Mellor and Mottram has the ability to undertake the installation of pipework and ductwork for many applications.
Working across the UK, Mellor and Mottram has also developed another side to its offering, providing quality mobile boiler hire to numerous clients. Before launching this arm of the business, Mellor and Mottram had to shut down a building when changing a bo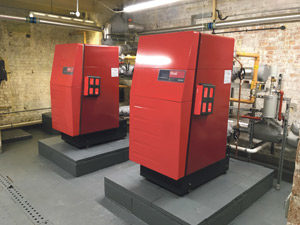 iler, something which creates a whole host of challenges when the establishment is a school or hospital. Thanks to Mellor and Mottram, clients can still have heating and hot water using one of the company's mobile boilers, helping them to continue operating as normal while their existing boiler is being repaired or replaced.
This kind of service is not often available, and so Mellor and Mottram is helping to fill a worrying gap in the market and offering reassurance to customers during colder weather. The website for Mellor and Mottram's boiler hire will be launching soon, so keep an eye out for when it is released.
Such quality services have been the foundation of Mellor and Mottram since its establishment nearly 50 years ago, and have ensured ongoing organic growth thanks to a loyal customer base, word of mouth and an enviable reputation across the industry. Indeed, customers and other companies are confident in Mellor and Mottram's skillset, a testament to the company's leading abilities.
If you would like to find out more information on everything Mellor and Mottram has to offer, head to the website. Alternatively, don't hesitate to get in touch using the contact details below.
Contact
T 0800 644 6240
sales@mellorandmottram.co.uk
www.mellorandmottram.co.uk