Situated in Glasgow, Burnside Plant Ltd is a piling contractor and a company that prides itself on achieving the very best in customer satisfaction. Through this ethos, the company has established a strong reputation for its outstanding services, among its portfolio of regular clientele based throughout the UK.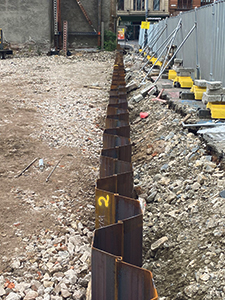 Utilising its dedicated and professional team, Burnside Plant maintains an impressive amount of experience and expertise, enabling the company to be able to provide an understanding and flexible approach to its customer's requirements, while maintaining the highest levels of quality and safety.
"We provide a whole service including design, supply of materials and installation of sheet piles, tubular piles and provide hire or sales of the piles," said Shirley.
Burnside Plant provides sheet pile installation, cofferdamn installation, king post installation, mini piling installation, tube installation, permanent and temporary design works, sheet pile hire and sale, Movax hire and haulage services, across the UK.
The company design, supplies and installs a vast amount of products including interlocking Larssen sheet piling retaining walls, for use in both temporary and permanent applications, king post systems, to meet UK standards and its customers particular specifications, and provides various methods of mini piling. Burnside Plant also maintains its own haulage for delivery and collection of sheet piles and all plant hire.
Shirley added, "We complete the whole scope of the job. Our customer base can be quite varied, clients can range from civil work to everyday householder's requiring foundation piling for doing an extension."
One of the main aspects of the company's services is its commitment to health and safety.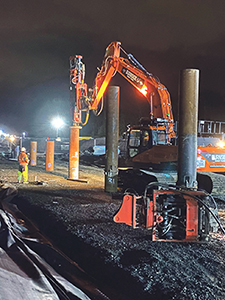 Shirley stated, "We are Constructionline gold accredited, which means that we uphold high standards of health and safety, including online health and safety for our team. We are fully accredited and we have also taken out other health and safety precautions, including height restrictors on our machines and dead man switches, in case of an emergency. We have adopted various health and safety practices, as we understand that this is a dangerous industry and we have taken all the necessary precautions to ensure that everyone from our employees to anyone around, is kept safe."
As the company looks ahead, Burnside Plant is proud of what it has achieved so far and has experienced consistent growth. Moving forward, the company plans to continue to expand, and gain further confidence from its clients, knowing that their health and safety is of paramount importance to Burnside Plant.
"To be able to receive Constructionline gold, shows to our customers that we are a responsible company, doing everything we can to ensure safety." Shirley continued, "We are a small company, so we are very proud of it. We feel this is why our customers speak so highly of our services and often recommend us to others."
For more information, please see below:
T 01416 479331
M 07787 575418
www.burnsideplant.co.uk