Crown Oak Buildings is a manufacturer and supplier of oak timber frame buildings and garages throughout the whole UK. With a plethora of experience, the company has constructed hundreds of oak timber frame buildings and gained industry recognition for its expertise and services.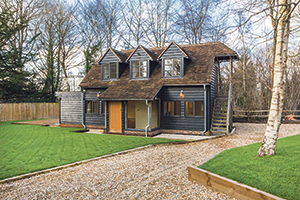 Established by Simon Hendrikson, for over 25 years Crown Oak Buildings has been providing both standard and bespoke services for oak timber frame buildings. Crown Oak Buildings is renowned for its high quality manufacture and construction of its oak frame buildings and provides an array of building options including: houses, garages, carports, garden rooms, porches, pergolas, gazebos, stables, swimming pool enclosures and self-build oak timber frame kits.
Crown Oak Buildings provides a full service build package consisting of initial design, planning application, ground works, manufacture and assembly of oak timber frame including weather boarding, up to the tiling and insulation of the roof.
All oak timber frame buildings are manufactured in-house at the company's workshop and have been designed to meet customer specifications ensuring that all the joints are precise and numbered accordingly. (is this just the same as the end of the next paragraph?)
A notable product for Crown Oak Buildings is its manufacture and supply of self-build timber frame kits. Self-build timber kits provide customers with their specified building in a packed form enabling the customer to assemble it easily. The building is manufactured and pre-assembled; ensuring quick assembly it also includes a full set of instructions, screws, nails, pegs and bolts, making it the perfect product for the self-builder.
One of the main focuses for the company is maintaining its ambition to provide a reliable service for its customers. "We're a family run firm and we ensure that we deliver an honest and reliable service – we run our name on that. We're not the biggest, but we are the best middle sized oak frame business out there." Simon Hendrikson.
A notable recent development for the company, Crown Oak Buildings has expanded its premises adding an additional workshop with an above office space. "We have a new workshop with new machines which has really sped up production. We have a strong relationship with our team, who have been with us from 10 to 20 years." Simon stated.
In terms of the future plans for the company, Simon shared that "We are currently working on a new website which will allow visitors to create their own 3D building (two storey or single) with our 3D online designer and we will provide them with a quote for their planned project which will allow them to properly visualise the building they want."
For any more information, please see the details below.
T 0173 286 6910
www.crownoakbuildings.co.uk