Re-flow Field Management was established in 2016 by Michael Saunders and Leandro Wade to provide Cloud-based field management software, which aims to unite field operatives and back-office staff with a centralised system. The company has seen impressive growth since its inception and has moved its offices through its expansion, headquartered in the historic city of Exeter, Devon.
"The software was originally built to connect field operatives and back-office staff with a centralised system in the highway management sector, but eventually grew in scope as we discovered that it could be adapted to construction and civil engineering firms. In 2018, the company was incorporated under the name Workflow Management Limited and launched as a separate entity, trading under the name Re-flow," added Michael Saunders, Co-founder & Managing Director.
Re-flow's Field Management Software serves a multitude of sectors including construction, highways, civil engineering, landscaping, telecoms and rail. The software is highly adaptable and scalable, meaning businesses of all sizes can take advantage of Re-flow's full potential. As such, the company's software is currently in operation for a wide range of businesses, from a minimum of ten users to supporting operatives in the hundreds on a national scale.
Offering unrivalled support and industry leading expertise, Re-flow specialises in guiding companies who have adopted its software through their digital transformation.
"Our talented team of software specialists guide clients from their trial, through to onboarding and beyond, also lending their expertise to build complex digital work forms and adapt our software to client needs," said Michael.
What sets Re-flow apart is its flexibility and the quality of our support. Offering an adaptable, intelligent system which offers so much more than the one size fits all approach commonly seen with off-the-shelf software.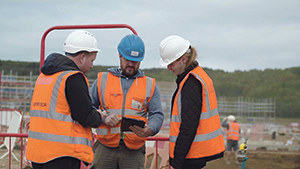 "Almost every aspect of our software can be tweaked and tailored to fit the specific working processes of each business. This spans customisable digital forms which can be custom-built to emulate existing paper forms, branding, the terminology used across the software and more." Michael continued, "Our support team can adapt the app and dashboard experience for each individual client, and even build forms in-house as an additional service. We understand how daunting it can be to replace the entire foundation of one's business, that's why we made sure implementing our software is as seamless as possible, and work can continue without being brought to a grinding halt."
In terms of recent developments for the company, Re-flow has seen some significant advances over the past year including rapid growth for the company. One of the biggest achievements for the company was the closing of another round of oversubscribed funding from Re-flow's investors in January of this year, which has really bolstered the company's expansion. this expansion has included growing Re-flow's team with new talent, increasing its presence at industry events & enabling the company to provide even more incredible features to for its clients.
Another notable development for the company was the implementation of several new features, these include a form builder, user tracking and automated workflows.
The form builder was originally designed for in-house use by Re-flow's support team to create bespoke forms for clients. Using an intuitive block-based system, users can build powerful forms of all complexities tailor-made for any purpose, all to regulatory standards. Realising its wealth of advantages for clients, Re-flow gave its clients access to the form builder, free of charge.
Michael expanded on the other key new features Re-flow has developed, "User tracking provides real-time data of where all your operatives are, giving field managers peace of mind that works are commencing smoothly. Thanks to digital signatures, time and location stamping, Re-flow now enables users to get a more detailed overview of operations than ever before.
"Lastly, automated workflows enable a new level of streamlining processes. Actions such as form submissions can trigger updates in the dashboard based on inputted data, including updating job progress, changing the status of plant and equipment, scheduling servicing reminders, sending automatic notifications and more."
With many new challenges experienced due to the COVID-19 pandemic, many companies and industries have experienced numerous changes. One of the most prominent developments through the COVID-19 pandemic for Re-flow, was the industry recognising the wealth of advantages and its importance for the future, of digital workforce solutions.
"The core aspects of our software – paperless information exchange, instant digital communication and real-time data – were exactly what businesses needed to continue working safely throughout the pandemic, and so many of our clients were able to keep operating at the same levels they had been prior to the pandemic, thanks to our software. The significance of HSE really rose to the forefront during that time and remains highly important to all the professionals we work with, even after the pandemic. We hope that moving forward, businesses in our sectors will invest into sustainable safety solutions, such as Re-flow, so that nobody is caught unprepared and unable to effectively protect their workers in the face of a crisis," said Michael.
As the company looks ahead, Re-flow aims to continue its sustained growth throughout 2022. Indeed, the company plans to build upon its growth and maintains many plans for expansion. Some of these areas of planned growth include expanding its team, attending even more events, innovating the industry with more new features, and continuing to build an even more stable, powerful and comprehensive field management system.